Simo Ahava – Server-side Tagging in Google Tag Manager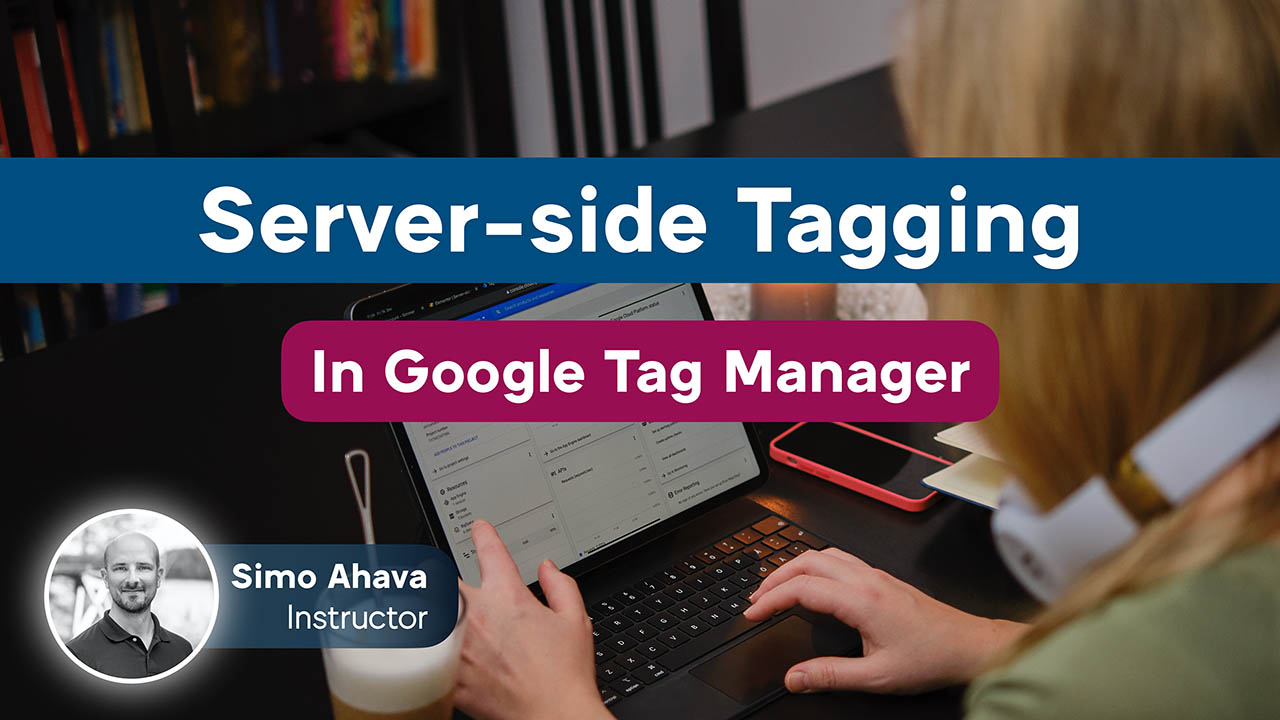 Premium
Learn online (no require download), easy download (Google Drive)

Ensure to get all files in the file list

Get free update course through your email

If you find a website cheaper than us, send it to us and we'll offer a cheaper price.

Last Updated Date: 09-21-2022

Course Size: 1.3 GB
Simo Ahava - Server-side Tagging in Google Tag Manager (1.3 GB)
Last Updated Date: 09-21-2022
Google Drive Proof
Simo Ahava - Server-side Tagging in Google Tag Manager
Owner
Last modified
File size
03-Upgrade The Environment
04-Cusomize Your Endpoint
05-Advanced Customizations
Simo Ahava - Server-side Tagging in Google Tag Manager
01-Intro
me
Sep 21, 2022 me
66.3 MB
02-Suggested Schedule.mp4
me
Sep 21, 2022 me
19.2 MB
me
Sep 21, 2022 me
5.6 MB
me
Sep 21, 2022 me
76.6 MB
Simo Ahava - Server-side Tagging in Google Tag Manager
02-Getting Started
Owner
Last modified
File size
02-Create The First Client
05-Preview Mode In Detail
Simo Ahava - Server-side Tagging in Google Tag Manager
02-Getting Started
01-Setup The Environment
01-Create The Server Container.mp4
me
Sep 21, 2022 me
10.7 MB
me
Sep 21, 2022 me
21.2 KB
02-Provision A Tagging Server.mp4
me
Sep 21, 2022 me
18.6 MB
me
Sep 21, 2022 me
15.9 MB
Simo Ahava - Server-side Tagging in Google Tag Manager
02-Getting Started
02-Create The First Client
01-Google Analytics GA4 Client.mp4
me
Sep 21, 2022 me
13.8 MB
02-Explore The Client With Preview Mode.mp4
me
Sep 21, 2022 me
18.8 MB
me
Sep 21, 2022 me
23.3 KB
me
Sep 21, 2022 me
5.6 MB
Simo Ahava - Server-side Tagging in Google Tag Manager
02-Getting Started
03-Create The First Tag
01-Google Analytics GA4 Tag.mp4
me
Sep 21, 2022 me
15.1 MB
02-Add Extra Detail With Variables.mp4
me
Sep 21, 2022 me
7.8 MB
03-Explore The Tag With Preview Mode.mp4
me
Sep 21, 2022 me
24.2 KB
Simo Ahava - Server-side Tagging in Google Tag Manager
02-Getting Started
04-Configure The Browser
01-Create A GA4 Web Tag.mp4
me
Sep 21, 2022 me
15.8 MB
02-Utilize The Send To Server Container Setting.mp4
03-Explore The Setup With Preview Mode.mp4
me
Sep 21, 2022 me
10.6 MB
Simo Ahava - Server-side Tagging in Google Tag Manager
02-Getting Started
05-Preview Mode In Detail
me
Sep 21, 2022 me
7.5 MB
me
Sep 21, 2022 me
5.5 MB
me
Sep 21, 2022 me
18.5 KB
04-The Event Data Tab.mp4
me
Sep 21, 2022 me
10.5 MB
me
Sep 21, 2022 me
13.7 KB
me
Sep 21, 2022 me
3.6 MB
me
Sep 21, 2022 me
4.5 MB
Simo Ahava - Server-side Tagging in Google Tag Manager
03-Upgrade The Environment
Owner
Last modified
File size
01-Reserve And Map A Custom Domain
Simo Ahava - Server-side Tagging in Google Tag Manager
03-Upgrade The Environment
01-Reserve And Map A Custom Domain
01-Custom Domain Settings In Google Cloud.mp4
me
Sep 21, 2022 me
22.3 MB
me
Sep 21, 2022 me
140.2 KB
02-Verify A New Custom Domain.mp4
me
Sep 21, 2022 me
10.4 MB
03-Map The Domain Name To App Engine.mp4
me
Sep 21, 2022 me
10.9 MB
me
Sep 21, 2022 me
111.7 KB
me
Sep 21, 2022 me
10.3 MB
me
Sep 21, 2022 me
6.5 MB
Simo Ahava - Server-side Tagging in Google Tag Manager
03-Upgrade The Environment
02-Upgrade The Server
01-Explore The Google Cloud Project.mp4
me
Sep 21, 2022 me
53.1 KB
me
Sep 21, 2022 me
11.6 MB
me
Sep 21, 2022 me
192.6 KB
03-Run The Upgrade Script.mp4
me
Sep 21, 2022 me
12.9 MB
me
Sep 21, 2022 me
5.4 MB
Simo Ahava - Server-side Tagging in Google Tag Manager
03-Upgrade The Environment
03-Optimize Costs
me
Sep 21, 2022 me
113.2 KB
01-Reduce Computation.mp4
me
Sep 21, 2022 me
44.6 MB
02-Reduce Network Egress.mp4
me
Sep 21, 2022 me
57.3 MB
me
Sep 21, 2022 me
61.3 KB
me
Sep 21, 2022 me
27.5 MB
me
Sep 21, 2022 me
8.4 MB
Simo Ahava - Server-side Tagging in Google Tag Manager
04-Cusomize Your Endpoint
Owner
Last modified
File size
02-Build A Client Template
04-Consolidate Incoming Traffic
Simo Ahava - Server-side Tagging in Google Tag Manager
04-Cusomize Your Endpoint
01-Import New Templates
01-Import Templates From The Gallery.mp4
me
Sep 21, 2022 me
18.4 MB
02-Import Templates From Other Sources.mp4
me
Sep 21, 2022 me
9.1 MB
me
Sep 21, 2022 me
12.9 KB
Simo Ahava - Server-side Tagging in Google Tag Manager
04-Cusomize Your Endpoint
02-Build A Client Template
01-Create A New Template.mp4
me
Sep 21, 2022 me
18.5 MB
me
Sep 21, 2022 me
78.8 KB
me
Sep 21, 2022 me
5.2 KB
me
Sep 21, 2022 me
56.1 KB
02-What Is The Template For.mp4
me
Sep 21, 2022 me
6.1 MB
03-Add New Functionality.mp4
me
Sep 21, 2022 me
23.7 MB
me
Sep 21, 2022 me
5.2 KB
me
Sep 21, 2022 me
92.8 KB
me
Sep 21, 2022 me
16.1 MB
me
Sep 21, 2022 me
6.4 MB
Simo Ahava - Server-side Tagging in Google Tag Manager
04-Cusomize Your Endpoint
03-Build A Tag Template
01-Create A New Template.mp4
me
Sep 21, 2022 me
27.5 MB
me
Sep 21, 2022 me
78.4 KB
me
Sep 21, 2022 me
5.2 KB
02-Add More Options To The Template.mp4
me
Sep 21, 2022 me
5.2 KB
me
Sep 21, 2022 me
77.3 KB
me
Sep 21, 2022 me
16.9 MB
me
Sep 21, 2022 me
6.6 MB
Simo Ahava - Server-side Tagging in Google Tag Manager
04-Cusomize Your Endpoint
04-Consolidate Incoming Traffic
01-Utilize The GA4 Client.mp4
me
Sep 21, 2022 me
21.9 MB
02-Create A Universal Analytics Tag.mp4
me
Sep 21, 2022 me
14.7 MB
03-Manipulate The Tag Data.mp4
me
Sep 21, 2022 me
19.8 MB
me
Sep 21, 2022 me
68.7 KB
me
Sep 21, 2022 me
7.5 MB
Simo Ahava - Server-side Tagging in Google Tag Manager
05-Advanced Customizations
Owner
Last modified
File size
Simo Ahava - Server-side Tagging in Google Tag Manager
05-Advanced Customizations
01-Advanced Applications
01-Anonymize The Request Origin.mp4
me
Sep 21, 2022 me
26.2 MB
me
Sep 21, 2022 me
92.1 KB
me
Sep 21, 2022 me
5.1 KB
me
Sep 21, 2022 me
39.2 KB
02-Proxy Google Tag Manager Web Container.mp4
me
Sep 21, 2022 me
17.1 MB
me
Sep 21, 2022 me
6.6 MB
me
Sep 21, 2022 me
5.1 KB
04-IP & Geolocation API.mp4
me
Sep 21, 2022 me
11.6 MB
me
Sep 21, 2022 me
91.7 KB
me
Sep 21, 2022 me
5.1 KB
me
Sep 21, 2022 me
90.5 KB
05-Preflight Requests.mp4
me
Sep 21, 2022 me
11.8 MB
me
Sep 21, 2022 me
5.1 KB
me
Sep 21, 2022 me
99.1 KB
me
Sep 21, 2022 me
5.1 KB
me
Sep 21, 2022 me
57.9 KB
me
Sep 21, 2022 me
20.6 MB
me
Sep 21, 2022 me
5.2 KB
08-Facebook Tag With GA4 Client.mp4
me
Sep 21, 2022 me
24.4 MB
me
Sep 21, 2022 me
105 KB
09-Install The GTM Server In Amazon's AWS.mp4
me
Sep 21, 2022 me
52.8 MB
me
Sep 21, 2022 me
74.6 KB
10-Google Ads, Floodlight, And Consent Mode.mp4
me
Sep 21, 2022 me
32.2 MB
me
Sep 21, 2022 me
101.3 KB
11-Cloud Run Deployment.mp4
me
Sep 21, 2022 me
9.9 MB
me
Sep 21, 2022 me
88.4 KB
12-Firestore Lookups 1.mp4
me
Sep 21, 2022 me
7.7 MB
12-Firestore Lookups 2.mp4
me
Sep 21, 2022 me
9.2 MB
me
Sep 21, 2022 me
13.5 KB
Simo Ahava - Server-side Tagging in Google Tag Manager
05-Advanced Customizations
02-Tips & Tricks
01-Setup Endpoint For Multiple Domains.mp4
me
Sep 21, 2022 me
13.1 MB
02-Create A Policy For The Tagging Server.mp4
me
Sep 21, 2022 me
39.7 MB
02-Policy Script File.pdf
me
Sep 21, 2022 me
5.2 KB
03-Google Analytics Server-managed Client ID.mp4
me
Sep 21, 2022 me
16.1 MB
me
Sep 21, 2022 me
122.6 KB
04-Estimate Required Instances.mp4
me
Sep 21, 2022 me
31.3 MB
me
Sep 21, 2022 me
10.5 KB
me
Sep 21, 2022 me
14.8 MB
06-Manually Install Tagging Server.mp4
me
Sep 21, 2022 me
17.9 MB
me
Sep 21, 2022 me
75.4 KB
07-Debug Requests Sent Without Preview Cookies.mp4
me
Sep 21, 2022 me
13.6 MB
me
Sep 21, 2022 me
85.1 KB
Welcome to Server-aspect Tagging In Google Tag Manager! This course will train you every little thing you have to learn about organising the tagging surroundings, migrating your shopper-aspect tags to run by means of the server, customizing the surroundings to higher fit your wants, optimizing the Google Cloud Platform assets, and extra…
With (welcome) advances in privateness laws and with browser monitoring protections, it has turn into increasingly vital to take management of the info flows transferring between customers and third-social gathering distributors that need this consumer information.
By loading distributors scripts straight in the browser or the app, these scripts have free rein to gather information with out virtually any restrictions. These scripts usually inflict extreme efficiency penalties on the searching expertise as properly.
Server-aspect tagging introduces a brand new middleman between the consumer and the seller. By deploying a Server container in Google Tag Manager, the location proprietor can transfer the cumbersome and privateness-invasive monitoring and information assortment logic to run by means of their server first, the place they will do issues like information validation, consent administration, useful resource caching, and full supply anonymization to make sure the tip consumer's privateness.
On this course, we are going to stroll by means of all of the steps required to arrange your individual tagging surroundings. Whereas you are able to do the course classes with a zero-price setup, as soon as you progress to a manufacturing surroundings, there will probably be some prices concerned with operating the digital machines that deal with your tagging surroundings (that is coated in the course).
-> In case you are a advertising and marketing skilled who needs to take your data of Google Tag Manager and increase it to cowl alternatives in the Cloud, this course is for you.
-> In case you are in IT or net growth and also you've been involved with the proliferation of shopper-aspect tags, and also you need to take steps to enhance governance, this course is for you.
-> In case you are a supervisor who understands how vital it's to determine possession over information assortment and processing processes inside and group, this course is for you.
-> In case you are a knowledge privateness or safety skilled who needs to deploy and make the most of instruments and strategies for shielding the consumer's proper to manage their information, this course is for you.
-> In case you are a Google Tag Manager consumer who needs to know extra in regards to the Cloud and the chances of server-aspect applied sciences, this course is for you.
We count on our college students to have a baseline data of Google Tag Manager, however you don't want any expertise of working with Cloud providers. The course is designed to stroll you thru all of the steps required to confidently work with server-aspect tagging in knowledgeable context.
The course contains…
Activity-primarily based, chew-sized, self-paced video classes
The course contains 70+ movies, grouped into classes. Every lesson is designed to discover some elementary side of server-aspect tagging.
The movies are primarily voice-over display recordings, with enhancements to make it simpler to comply with alongside. The course is self-paced, and you may take it at your individual leisure.
The movies are accompanied with an interactive English transcript in addition to subtitles that will help you comply with alongside.
The person matters all the time comprise textual content content material to assist flesh out the ideas.
More courses you might like