Koray Tugberk Gubur – Topical Authority Semantic SEO (Fundamentals) Course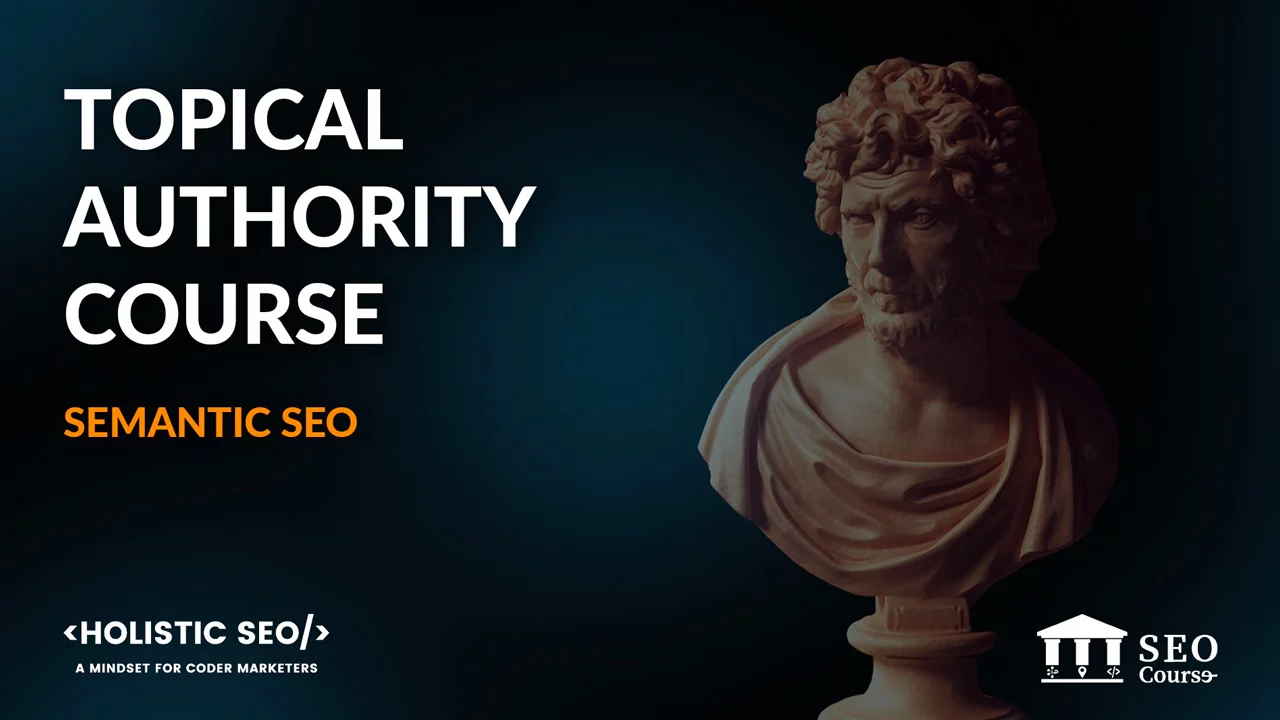 Premium
Learn online (no require download), easy download (Google Drive)

Ensure to get all files in the file list

Get free update course through your email

If you find a website cheaper than us, send it to us and we'll offer a cheaper price.

Last Updated Date: 05-21-2023
Koray Tugberk Gubur – Topical Authority Semantic SEO (Fundamentals) Course (19.4 GB)
Last Updated Date: 05-21-2023
Google Drive Proof
Koray Tugberk Gubur – Topical Authority Semantic SEO (Fundamentals) Course
Owner
Last modified
File size
00-1-A Non-formal Biography of Your Teacher.mp3
me
May 21, 2023 me
10.4 MB
00-2-Introduction (Guide for Semantic SEO Lectures).mp4
me
May 21, 2023 me
187.3 MB
00-4-Semantic SEO and Topical Authority Instructions.mp4
me
May 21, 2023 me
417.4 MB
01-Lecture 1 - Introduction to Koraynese (Koray's Framework) (5 Min.).mp4
me
May 21, 2023 me
55.9 MB
02-Lecture 2 - Introduction to Query Semantics (5 Min.)(1).mp4
me
May 21, 2023 me
40.6 MB
03-Lecture 3 - Introduction to Real Topical Maps (6 Min.).mp4
me
May 21, 2023 me
49.4 MB
04-Lecture 4 - Topical Map Components (6 Min.).mp4
me
May 21, 2023 me
51.8 MB
05-Lecture 5 - Central Entity, Central Search Intent, and Site-wide Ngrams (5 Min.).mp4
me
May 21, 2023 me
45.6 MB
06-Lecture 6 - Processed and Raw Topical Maps (Macro - Micro Contexts) (6 Min.).mp4
me
May 21, 2023 me
195.7 MB
07-Lecture 7 - Topic Distillation with Information Architecture (6 Min.).mp4
me
May 21, 2023 me
180.8 MB
08-Lecture 8 - Context Signals in Title Tags and Decsriptions (5 Min.).mp4
me
May 21, 2023 me
170.6 MB
09-Lecture 9 - Macro-Micro Context with Main and Supplementary Content (6 Min.).mp4
me
May 21, 2023 me
287.1 MB
10-Lecture 10 - Context Specification with IR Zones (4 Min.).mp4
me
May 21, 2023 me
157.9 MB
11-Lecture 11 - Publication and Refreshment Frequency (Momentum) (6 Min.).mp4
me
May 21, 2023 me
181.1 MB
12-Lecture 12 - Production Efficiency and Lean Management (2 Min.).mp4
me
May 21, 2023 me
63.6 MB
13-Lecture 13 - Basic Algorithmic Authorship Instructions (4 Min.).mp4
me
May 21, 2023 me
141.4 MB
14-Lecture 14 - Koray's Frame Work (Context is Everything) (4 Min.).mp4
me
May 21, 2023 me
203 MB
15-Lecture 15 - Contextual and Knowledge Domains (5 Min.).mp4
me
May 21, 2023 me
181.3 MB
16-Lecture 16 - Attribute Filtration and Criterias (3 Min.).mp4
me
May 21, 2023 me
120.2 MB
17-Lecture 17 - Root of Semantic Content Network (4 Min.).mp4
me
May 21, 2023 me
253.3 MB
18-Lecture 18 - Contextual Vector and Question Generation (6 Min.).mp4
me
May 21, 2023 me
359.5 MB
19-Lecture 19 - Root, Rare, Unique Attributes for Question Generation (5 Min.).mp4
me
May 21, 2023 me
186.3 MB
20-Lecture 20 - Question Generation, Ranking and Canonicalization (6 Min.).mp4
me
May 21, 2023 me
209.7 MB
21-Lecture 21 - Contextual Structure (4 Min.).mp4
me
May 21, 2023 me
200.1 MB
22-Lecture 22 - Contextual Coverage and Contextual Flow (7 Min.).mp4
me
May 21, 2023 me
447.4 MB
23-Lecture 23 - Contextual Connections and Bridges (Clickability) (5 Min.).mp4
me
May 21, 2023 me
296.3 MB
24-Lecture 24 - Relevance Configuration and Responsive Construction (Koray's Framework) (6 Min.).mp4
me
May 21, 2023 me
307 MB
25-Lecture 25 - Large Language Models and Semantic Algorithms of Google (12 Min.).mp4
me
May 21, 2023 me
186.1 MB
26-Lecture 26 - Semantic Content Item Brief Template (Sensing Content Network) (6 Min.) (2).mp4
me
May 21, 2023 me
205.3 MB
27-Lecture 27 - Examining Initial, Past, and Live Results with Semantic SEO Concepts (4 Min.).mp4
me
May 21, 2023 me
113.9 MB
28-Lecture 28 - Outranking Established Authorities with 27 Articles (Essence of Topical Maps) (4 Min.).mp4
me
May 21, 2023 me
212.9 MB
29-Lecture 29 - Prioritization of Topics with Attribute Filtering (5 Min.).mp4
me
May 21, 2023 me
148.6 MB
30-Lecture 30 - Information Tree and Sub-site Retrieval (Sensing Importance) (5 Min.).mp4
me
May 21, 2023 me
212.1 MB
31-Lecture 31 - Creation of Topical Map with Annotational Semantics (5 Min.).mp4
me
May 21, 2023 me
183.2 MB
32-Lecture 32 - Signalling the Macro-Context with IR Zones (3 Min.).mp4
me
May 21, 2023 me
104 MB
33-Lecture 33 - Limits and Optimization of Momentum (5 Min.).mp4
me
May 21, 2023 me
303 MB
34-Lecture 34 - Central Entity and Source Context (Quality Nodes) (6 Min.).mp4
me
May 21, 2023 me
280 MB
35-Lecture 35 - Contextual Vector Construction from Different Web Sources (5 Min.).mp4
me
May 21, 2023 me
276.2 MB
36-Lecture 36 - Macro and Micro Contextual Vectors (7 Min.).mp4
me
May 21, 2023 me
397 MB
37-Lecture 37 Supplementary and Main Contnet (6 Min.).mp4
me
May 21, 2023 me
208.7 MB
38-Lecture 38 - Contextual Hierarchy and Connections (6 Min.).mp4
me
May 21, 2023 me
308.7 MB
39-Lecture 39 - Contextual Structure Analysis and Flow (6 Min.).mp4
me
May 21, 2023 me
225.2 MB
40-Lecture 40 - Contextual Structure with Algorithmic Rules (6 Min.).mp4
me
May 21, 2023 me
239.1 MB
41-Lecture 41 - Extractive and Abstractive Summary (8 Min.).mp4
me
May 21, 2023 me
256.5 MB
42-Lecture 42 - Contextual Structure for Entities from Same Class (7 Min.).mp4
me
May 21, 2023 me
200.6 MB
43-Lecture 43 - Contextual Border (6 Min.).mp4
me
May 21, 2023 me
219.3 MB
44-Lecture 44 - Microsemantics (7 Min.).mp4
me
May 21, 2023 me
179.7 MB
45-Lecture 45 - Predicates, Nouns, and Distributing Contextual Relevance (6 Min.).mp4
me
May 21, 2023 me
235.5 MB
46-Lecture 46 - Conditional Synonym Phrases in Macro Contexts (6.5 Min.).mp4
me
May 21, 2023 me
194.6 MB
47-Lecture 47 - Contextual Consolidation within Vectors (8 Min.).mp4
me
May 21, 2023 me
300.8 MB
48-Lecture 48 - Knowledge-base Construction within Definitions (5 Min.).mp4
me
May 21, 2023 me
196.2 MB
49-Lecture 49 - Balancing Contextual Coverage (6 Min.).mp4
me
May 21, 2023 me
230.2 MB
50-Lecture 50 - Structuring Context with Macro and Micro Semantics (4 Min.).mp4
me
May 21, 2023 me
117 MB
51-Lecture 51 - Turning Queries into Headings (5 Min.).mp4
me
May 21, 2023 me
159.4 MB
52-Lecture 52 - Including Answer Terms with Contextual Flow (6 Min.).mp4
me
May 21, 2023 me
218.2 MB
53-Lecture 53 - Matching and Signalling Anchor Text Terms (4 Min.).mp4
me
May 21, 2023 me
118.2 MB
54-Lecture 54 - Using Boolean Questions in Queries (5 Min.).mp4
me
May 21, 2023 me
188.9 MB
55-Lecture 55 - Consolidating Contextual Relevance (6 Min.).mp4
me
May 21, 2023 me
193.5 MB
56-Lecture 56 - Using Antonyms for Contextual Bridges (6.30 Min.).mp4
me
May 21, 2023 me
231.9 MB
57-Lecture 57 - Phrase Sequences and Distributional Semantics (3 Min.).mp4
me
May 21, 2023 me
98.2 MB
58-Lecture 58 - Using Multiple Content Format in a Single Web Document (6 Min.).mp4
me
May 21, 2023 me
213.2 MB
59-Lecture 59 - Lemmatization in Contextual Vector (5 Min.).mp4
me
May 21, 2023 me
136.2 MB
60-Lecture 60 - Creating Information Extraction Points (6.30 Min.).mp4
me
May 21, 2023 me
228.5 MB
61-Lecture 61 - Sequence Modeling and Canonical Queries (7 Min.).mp4
me
May 21, 2023 me
172 MB
62-Lecture 62 - Reading Query Networks (6 Min.).mp4
me
May 21, 2023 me
222.6 MB
63-Lecture 63 - Using Multiple Contextual Domains in Main Content (6 Min.).mp4
me
May 21, 2023 me
206.4 MB
64-Lecture 64 - Connecting Attributes of Central Entity (8 Min.).mp4
me
May 21, 2023 me
279.8 MB
65-Lecture 65 - Data to Website (7 Min.).mp4
me
May 21, 2023 me
238 MB
66-Lecture 66 - Auditing Article Relevance and Responsiveness (7.30 Min.).mp4
me
May 21, 2023 me
234 MB
67-Lecture 67 - Auditing Order of Declarations and Completeness (5 Min.).mp4
me
May 21, 2023 me
180.6 MB
68-Lecture 68 - First Word Sequence (9 Min.).mp4
me
May 21, 2023 me
216 MB
69-Lecture 69 - Auditing Distributional Semantics (7.30 Min.).mp4
me
May 21, 2023 me
306.4 MB
70-Lecture 70 - Concensus and Modalities (Formal Semantics) (5 Min.).mp4
me
May 21, 2023 me
253.6 MB
71-Lecture 71 - Exact Denitive and Declarative Answers (8 Min.).mp4
me
May 21, 2023 me
165.7 MB
72-Lecture 72 - Using Inqusitive Semantics for Answer Routes (8 Min.).mp4
me
May 21, 2023 me
282.1 MB
73-Lecture 73 - Bending Meaning and Context (Talking to Search Engine) (6.30 Min.).mp4
me
May 21, 2023 me
201.4 MB
74-Lecture 74 - Constructing a Knowledge Base (Consistent E-A-V) (6.30 Min.).mp4
me
May 21, 2023 me
221.1 MB
75-Lecture 75 - Represented and Representative Questions and Expansion of Evidence (5 Min.).mp4
me
May 21, 2023 me
175.2 MB
76-Lecture 76 - Content Configuration with Algorithmic Authorship (9 Min.).mp4
me
May 21, 2023 me
268.2 MB
77-Lecture 77 - Page and Segment-side Context, Answer, Topicality Terms (8 Min.).mp4
me
May 21, 2023 me
257.2 MB
78-Lecture 78 - Question and Answer Formats with Neural Matching (6 Min.).mp4
me
May 21, 2023 me
228.3 MB
79-Lecture 79 - Contextual Domains and Layers in Answer Construction (11 Min.).mp4
me
May 21, 2023 me
327.6 MB
80-Lecture 80 - Creating Quality Nodes for Changing Search Engine's Perception (17 Minutes).mp4
me
May 21, 2023 me
533.3 MB
81-Lecture 81 - Topical Map Creation (With All Components) (10 Min.).mp4
me
May 21, 2023 me
275.3 MB
82-Lecture 82 - Topical Map Creation for Multiple Source Context (14 Min.).mp4
me
May 21, 2023 me
371.8 MB
83-Lecture 83 - Topical Map Creation with Topical Borders (17 Min.).mp4
me
May 21, 2023 me
510.2 MB
84-Lecture 84 - Semantic Content Item Brief Creation for Root (17 Min.).mp4
me
May 21, 2023 me
635.3 MB
85-Lecture 85 - Creating a Root for Multiple Source Context (17 Min.)(1).mp4
me
May 21, 2023 me
520.1 MB
Koray Tugberk Gubur – Topical Authority Semantic SEO (Fundamentals) Course
Resources
00-1-A Non-formal Biography of Your Teacher.png
me
May 21, 2023 me
117.7 KB
00-1-A Non-formal Biography of Your Teacher.rtf
me
May 21, 2023 me
24.7 MB
00-2-Introduction (Guide for Semantic SEO Lectures).png
me
May 21, 2023 me
245.3 KB
00-3-Fundamentals of Semantic SEO.rtf
me
May 21, 2023 me
177.6 KB
me
May 21, 2023 me
363.3 KB
00-4-Koray's talk Semantic SEO and Topical Authority Instructions.docx
me
May 21, 2023 me
47.9 KB
00-4-Semantic SEO and Topical Authority Instructions.png
me
May 21, 2023 me
304.2 KB
me
May 21, 2023 me
77.8 KB
01-Lecture 1 - Introduction to Koraynese (Koray's Framework) (5 Min.).png
me
May 21, 2023 me
315.7 KB
02-Lecture 2 - Introduction to Query Semantics (5 Min.).png
me
May 21, 2023 me
290 KB
03-Lecture 3 - Introduction to Real Topical Maps (6 Min.).png
me
May 21, 2023 me
287.3 KB
04-Lecture 4 - Topical Map Components (6 Min.).png
me
May 21, 2023 me
292.7 KB
05-Lecture 5 - Central Entity, Central Search Intent, and Site-wide Ngrams (5 Min.).png
me
May 21, 2023 me
291.2 KB
06-Lecture 6 - Processed and Raw Topical Maps (Macro - Micro Contexts) (6 Min.).png
me
May 21, 2023 me
346.1 KB
07-Lecture 7 - Topic Distillation with Information Architecture (6 Min.).png
me
May 21, 2023 me
279.3 KB
08-Lecture 8 - Context Signals in Title Tags and Decsriptions (5 Min.).png
me
May 21, 2023 me
295.9 KB
09-Lecture 9 - Macro-Micro Context with Main and Supplementary Content (6 Min.).png
me
May 21, 2023 me
320.1 KB
10-Lecture 10 - Context Specification with IR Zones (4 Min.).png
me
May 21, 2023 me
305.3 KB
11-Lecture 11 - Publication and Refreshment Frequency (Momentum) (6 Min.).png
me
May 21, 2023 me
327.4 KB
12-Lecture 12 - Production Efficiency and Lean Management (2 Min.).png
me
May 21, 2023 me
326.4 KB
13-Lecture 13 - Basic Algorithmic Authorship Instructions (4 Min.).png
me
May 21, 2023 me
321.9 KB
14-Lecture 14 - Koray's Frame Work (Context is Everything) (4 Min.).png
me
May 21, 2023 me
343.7 KB
15-Lecture 15 - Contextual and Knowledge Domains (5 Min.).png
me
May 21, 2023 me
281.8 KB
me
May 21, 2023 me
41.8 KB
16-Lecture 16 - Attribute Filtration and Criterias (3 Min.).png
me
May 21, 2023 me
298.3 KB
17-Lecture 17 - Root of Semantic Content Network (4 Min.).png
me
May 21, 2023 me
335.5 KB
18-Lecture 18 - Contextual Vector and Question Generation (6 Min.).png
me
May 21, 2023 me
315.3 KB
19-Lecture 19 - Root, Rare, Unique Attributes for Question Generation (5 Min.).png
me
May 21, 2023 me
332.5 KB
20-Lecture 20 - Question Generation, Ranking and Canonicalization (6 Min.).png
me
May 21, 2023 me
317.9 KB
21-Lecture 21 - Contextual Structure (4 Min.).png
me
May 21, 2023 me
304.4 KB
22-Lecture 22 - Contextual Coverage and Contextual Flow (7 Min.).png
me
May 21, 2023 me
307.4 KB
23-Lecture 23 - Contextual Connections and Bridges (Clickability) (5 Min.).png
me
May 21, 2023 me
324.6 KB
24-Lecture 24 - Relevance Configuration and Responsive Construction (Koray's Framework) (6 Min.).png
me
May 21, 2023 me
378 KB
25-Lecture 25 - Large Language Models and Semantic Algorithms of Google (12 Min.).png
me
May 21, 2023 me
332 KB
26-Lecture 26 - Semantic Content Item Brief Template (Sensing Content Network) (6 Min.).png
me
May 21, 2023 me
340.8 KB
27-Lecture 27 - Examining Initial, Past, and Live Results with Semantic SEO Concepts (4 Min.).png
me
May 21, 2023 me
351.6 KB
28-Lecture 28 - Outranking Established Authorities with 27 Articles (Essence of Topical Maps) (4 Min.).png
me
May 21, 2023 me
330.1 KB
29-Lecture 29 - Prioritization of Topics with Attribute Filtering (5 Min.).png
me
May 21, 2023 me
291.9 KB
30-Lecture 30 - Information Tree and Sub-site Retrieval (Sensing Importance) (5 Min.).png
me
May 21, 2023 me
328.4 KB
31-Lecture 31 - Creation of Topical Map with Annotational Semantics (5 Min.).png
me
May 21, 2023 me
311.2 KB
32-Lecture 32 - Signalling the Macro-Context with IR Zones (3 Min.).png
me
May 21, 2023 me
269.5 KB
33-Lecture 33 - Limits and Optimization of Momentum (5 Min.).png
me
May 21, 2023 me
323.2 KB
34-Lecture 34 - Central Entity and Source Context (Quality Nodes) (6 Min.).png
me
May 21, 2023 me
335 KB
35-Lecture 35 - Contextual Vector Construction from Different Web Sources (5 Min.).png
me
May 21, 2023 me
309.9 KB
36-Lecture 36 - Macro and Micro Contextual Vectors (7 Min.).png
me
May 21, 2023 me
304.8 KB
37-Lecture 37 Supplementary and Main Contnet (6 Min.).png
me
May 21, 2023 me
285.7 KB
38-Lecture 38 - Contextual Hierarchy and Connections (6 Min.).png
me
May 21, 2023 me
353.9 KB
39-Lecture 39 - Contextual Structure Analysis and Flow (6 Min.).png
me
May 21, 2023 me
303.3 KB
40-Lecture 40 - Contextual Structure with Algorithmic Rules (6 Min.).png
me
May 21, 2023 me
309 KB
41-Lecture 41 - Extractive and Abstractive Summary (8 Min.).png
me
May 21, 2023 me
361.1 KB
me
May 21, 2023 me
41.4 KB
42-Lecture 42 - Contextual Structure for Entities from Same Class (7 Min.).png
me
May 21, 2023 me
285.1 KB
43-Lecture 43 - Contextual Border (6 Min.).png
me
May 21, 2023 me
284.5 KB
44-Lecture 44 - Microsemantics (7 Min.).png
me
May 21, 2023 me
304.6 KB
45-Lecture 45 - Predicates, Nouns, and Distributing Contextual Relevance (6 Min.).png
me
May 21, 2023 me
331.9 KB
46-Lecture 46 - Conditional Synonym Phrases in Macro Contexts (6.5 Min.).png
me
May 21, 2023 me
275 KB
47-Lecture 47 - Contextual Consolidation within Vectors (8 Min.).png
me
May 21, 2023 me
313.3 KB
48-Lecture 48 - Knowledge-base Construction within Definitions (5 Min.).png
me
May 21, 2023 me
313.9 KB
49-Lecture 49 - Balancing Contextual Coverage (6 Min.).png
me
May 21, 2023 me
283.6 KB
50-Lecture 50 - Structuring Context with Macro and Micro Semantics (4 Min.).png
me
May 21, 2023 me
322.7 KB
51-Lecture 51 - Turning Queries into Headings (5 Min.).png
me
May 21, 2023 me
311.7 KB
52-Lecture 52 - Including Answer Terms with Contextual Flow (6 Min.).png
me
May 21, 2023 me
307 KB
53-Lecture 53 - Matching and Signalling Anchor Text Terms (4 Min.).png
me
May 21, 2023 me
303.6 KB
54-Lecture 54 - Using Boolean Questions in Queries (5 Min.).png
me
May 21, 2023 me
279.4 KB
55-Lecture 55 - Consolidating Contextual Relevance (6 Min.).png
me
May 21, 2023 me
263.3 KB
56-Lecture 56 - Using Antonyms for Contextual Bridges (6.30 Min.).png
me
May 21, 2023 me
294 KB
57-Lecture 57 - Phrase Sequences and Distributional Semantics (3 Min.).png
me
May 21, 2023 me
277.5 KB
58-Lecture 58 - Using Multiple Content Format in a Single Web Document (6 Min.).png
me
May 21, 2023 me
302 KB
59-Lecture 59 - Lemmatization in Contextual Vector (5 Min.).png
me
May 21, 2023 me
294.8 KB
60-Lecture 60 - Creating Information Extraction Points (6.30 Min.).png
me
May 21, 2023 me
313.8 KB
61-Lecture 61 - Sequence Modeling and Canonical Queries (7 Min.).png
me
May 21, 2023 me
294.5 KB
62-Lecture 62 - Reading Query Networks (6 Min.).png
me
May 21, 2023 me
256 KB
63-Lecture 63 - Using Multiple Contextual Domains in Main Content (6 Min.).png
me
May 21, 2023 me
300.1 KB
64-Lecture 64 - Connecting Attributes of Central Entity (8 Min.).png
me
May 21, 2023 me
349.2 KB
65-Lecture 65 - Data to Website (7 Min.).png
me
May 21, 2023 me
274.4 KB
66-Lecture 66 - Auditing Article Relevance and Responsiveness (7.30 Min.).png
me
May 21, 2023 me
291.8 KB
67-Lecture 67 - Auditing Order of Declarations and Completeness (5 Min.).png
me
May 21, 2023 me
319.1 KB
68-Lecture 68 - First Word Sequence (9 Min.).png
me
May 21, 2023 me
258.2 KB
69-Lecture 69 - Auditing Distributional Semantics (7.30 Min.).png
me
May 21, 2023 me
272.1 KB
70-Lecture 70 - Concensus and Modalities (Formal Semantics) (5 Min.).png
me
May 21, 2023 me
315.2 KB
71-Lecture 71 - Exact Denitive and Declarative Answers (8 Min.).png
me
May 21, 2023 me
290 KB
72-Lecture 72 - Using Inqusitive Semantics for Answer Routes (8 Min.).png
me
May 21, 2023 me
269.3 KB
73-Lecture 73 - Bending Meaning and Context (Talking to Search Engine) (6.30 Min.).png
me
May 21, 2023 me
339.6 KB
74-Lecture 74 - Constructing a Knowledge Base (Consistent E-A-V) (6.30 Min.).png
me
May 21, 2023 me
317.3 KB
75-Lecture 75 - Represented and Representative Questions and Expansion of Evidence (5 Min.).png
me
May 21, 2023 me
348.5 KB
76-Lecture 76 - Content Configuration with Algorithmic Authorship (9 Min.).png
me
May 21, 2023 me
292.8 KB
77-Lecture 77 - Page and Segment-side Context, Answer, Topicality Terms (8 Min.).png
me
May 21, 2023 me
295.4 KB
78-Lecture 78 - Question and Answer Formats with Neural Matching (6 Min.).png
me
May 21, 2023 me
299.7 KB
79-Lecture 79 - Contextual Domains and Layers in Answer Construction (11 Min.).png
me
May 21, 2023 me
336.3 KB
80-Lecture 80 - Creating Quality Nodes for Changing Search Engine's Perception (17 Minutes).png
me
May 21, 2023 me
333.2 KB
81-Lecture 81 - Topical Map Creation (With All Components) (10 Min.).png
me
May 21, 2023 me
296 KB
82-Lecture 82 - Topical Map Creation for Multiple Source Context (14 Min.).png
me
May 21, 2023 me
306.1 KB
83-Lecture 83 - Topical Map Creation with Topical Borders (17 Min.).png
me
May 21, 2023 me
313 KB
84-Lecture 84 - Semantic Content Item Brief Creation for Root (17 Min.).png
me
May 21, 2023 me
321.6 KB
85-Lecture 85 - Creating a Root for Multiple Source Context (17 Min.).png
me
May 21, 2023 me
273 KB
87 Semantic SEO Lectures (9 Hours, 13 Minutes, 27 Seconds) from Zero to Hero
Develop Complete Topical Maps for Enhanced Rating Efficiency
Analyze and Consider High-performing Topical Maps in Present Rankings
Acquire Experience in Key Parts of Efficient Topical Map Design
Increase Relevance and Responsiveness for Elevated Visibility
Outperform Established Authorities by means of Superior Semantic Search Engine Optimization Methods.
This complete course consists of 87 in-depth lectures, totaling 9 hours, 13 minutes, and 27 seconds of content material, designed to take you from novice to knowledgeable in semantic SEO. There isn't a refund applied in Semantic SEO Course, as a result of the mindset, and strategy will change your life.
Purchase information from the pioneer of Topical Maps and Topical Authority in SEO Straight
Develop Efficient Semantic Content material Networks for Dominating Your Area of interest
Grasp the Fundamentals and Sensible Functions of Topical Authority
Acquire Perception into the Significance of Topical Protection and Historic Information
Create Semantically Optimized Content material Briefs for Most Impression
Comprehend Algorithmic Enhancements for Improved Content material Community Efficiency
Purchase information immediately from the pioneer of Topical Maps and the Topical Authority Strategy for SEO, guaranteeing a stable basis in cutting-edge strategies and business finest practices.
Make the most of Algorithmic Authorship and Content material Engineering Methods for Topical Authority
Comprehend the Ideas of Algorithmic Authorship Guidelines
Apply Microsemantics to Increase Relevance and Responsiveness in Content material Creation
Optimize Content material Networks Using Macro and Micro Contexts
Leverage Search Engine Algorithms to Outperform Search High quality Groups
Acquire In-depth Understanding of Search Engine Ideas, Mirroring the Experience of Their Engineers
Acquire a aggressive edge in SEO by mastering the rules of algorithmic authorship guidelines and making use of macro and microsemantics to extend content material relevance and enhance responsiveness.
More courses you might like