Kody Knows – Native Mastery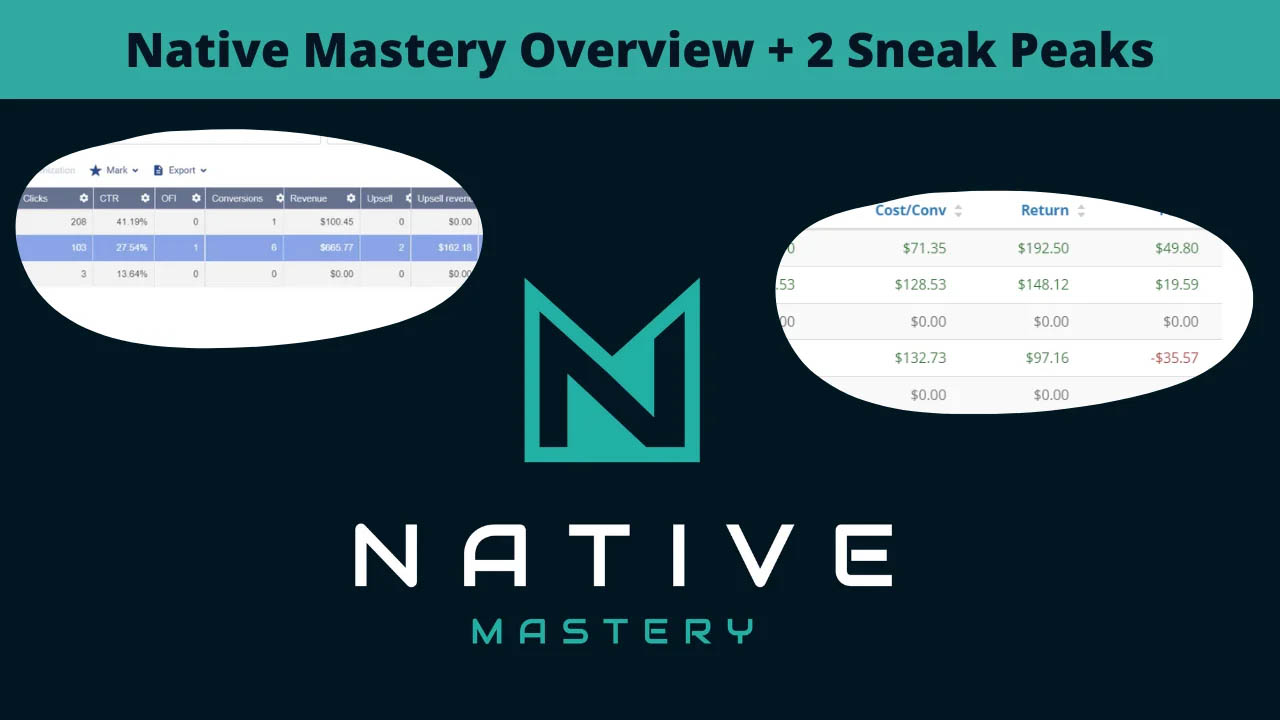 Premium
Learn online (no require download), easy download (Google Drive)

Ensure to get all files in the file list

Get free update course through your email

If you find a website cheaper than us, send it to us and we'll offer a cheaper price.

Last Updated Date: 04-20-2022

Course Size: 3.94 GB
Kody Knows - Native Mastery (3.94 GB)
Last Updated Date: 04-20-2022
Google Drive Proof
Kody Knows - Native Mastery
Folders
04-Landing Pages (M.A example)
05-Creating an OutBrain Campaign
06-Reading the Data - Optimizing
09-Frequently Asked Questions
01-Intro
Files
01-Intro to Native Ads.mp4
02-What Software You Need.mp4
02-Setting Up Tracking
Files
01-Integrating ClickBank and Voluum.mp4
02-Adding a ClickBank Offer.mp4
03-How to Track Order Form Impressions (OFI).mp4
04-How I Like to Organize My Columns.mp4
05-How to Add a Traffic Source to Voluum (OutBrain).mp4
03-Spying
Files
01-Intro to Spying (Manual vs Paid).mp4
02-How I Do Manual Spying on Native Ads.mp4
03-How to Use AdPlexity to Spy on Native Super Affiliates.mp4
04-Landing Pages (M.A example)
Files
01-Overview of Landing Pages.mp4
02-Download my Landing Page Template.mp4
03-Creating a Landing Page with LanderBolt.mp4
04-How to Choose a Custom Domain That Covers Multiple Verticals.mp4
05-Adding the Landing Page into Voluum.mp4
06-How to Make the Landing Page Mobile Friendly.mp4
07-How to Split Test Landing Pages.mp4
05-Creating an OutBrain Campaign
Files
01-Adding The Nervogen Offer Into Voluum.mp4
02-Creating a Landing Page for Nervogen.mp4
03-How to Create an OutBrain Conversion Action.mp4
04-How to Submit a Traffic Source Postback URL.mp4
05-Creating a Direct Tracking Link For OutBrain.mp4
06-Creating The Ads For Our Nervogen Campaign.mp4
07a-Creating an OutBrain Campaign For Nervogen.mp4
07b-Duplicating the Nervogen Campaign for Mob-Tab.mp4
07c-Duplicating the Nervogen Campaign for MSN Only.mp4
08-Adding Terms of Service, Privacy Policy, and Contact Us Links.mp4
06-Reading the Data - Optimizing
Files
01-Quick Organization Tip (Campaign Names).mp4
02-My Publisher or Section Rules (Template).mp4
02-Native Ads Campaign Structure - TEMPLATE.xlsx
03-How to Exclude Publishers & Sections.mp4
04-Our 1st Conversion on Day 2!.mp4
05-Increasing Budgets.mp4
06-Daily Spend or Revenue File.mp4
07-Fixing the Traffic Source Postback URL.mp4
08-Drilling Down On The Data Pt 1 - Publishers & Sections.mp4
09-How to Bulk Exclude Section ID's (site-wide example).mp4
10-Drilling Down On The Data Pt 2 - Ad Ids.mp4
11-My Campaign Kill Ratio Template.mp4
12-Creating Ads for 'Round 2' - Testing New Headlines.mp4
13-How to Resubmit Disapproved Ads.mp4
14-My Scale Guide For Native Ads.mp4
15-Test Conversion For The TS Postback URL = SUCCESS!.mp4
16-Nervogen Campaign Wrap Up.mp4
07-RevContent
Files
01-How to Add RevContent as a Traffic Source.mp4
02-Integrating Voluum and RevContent.mp4
03-How to Add a RevContent Postback URL into Voluum.mp4
04-How to Create Your RevContent Tracking Link.mp4
05-Find Offers or Campaigns to Run on RevContent.mp4
06-Creating RevContent Ads (Images & Headlines).mp4
07-Creating a RevContent Campaign (Day 1 Sale!!).mp4
08-Fixing The RevContent Postback URL....mp4
09-RevContent - 'Round 2' - 5 New Images to Test.mp4
10-Creating Auto Rules For RevContent Campaigns.mp4
11-Split Testing Landing Pages.mp4
12-Data Dive - Day 2 Of Traffic!.mp4
13-Campaign Wrap Up - Back-2-Back Green Days.mp4
08-BONUS
Files
01-How I Come Up With Angles to Test.mp4
02-Calculating Future Profits on Past Data.mp4
03-ClickBank Account Suspensions - Allowances - Releases.mp4
04-Best Credit Card For Scaling (My Opinion).mp4
09-Frequently Asked Questions
Files
01-Which Native Ads Traffic Sources Do You Use.png
02-For a $3K budget for a campaign how many angles should I test.png
03-Which Types of Offers Work Best on Native Ads.png
04-I ran Nervogen just like you with no success.png
I imagine one of the best ways to show Native Advertisements is to create campaigns proper in entrance of your eyes and present you EXACTLY how I optimize & make essential choices. I do not simply speak about what to do, I SHOW YOU!
What's Included In The Native Advertisements Coaching Course??
Set Up Monitoring With Native Advertisements
​Monitoring Order Kind Impressions (OFI's)
​ Spy on Competitors Like a Professional (Free/Paid)
​ Create Excessive CTR Touchdown Pages
​A Touchdown Web page Template For Native Advertisements
​ Use PROVEN Landers With Native
​Creating The Native Marketing campaign *(Actual Examples)*
Sending Conversions Again to Site visitors Supply*​
How I Discover Advert Photos That Make BANK​
​The Construction For Native Campaigns
​Native Advertisements Optimization Ideas!
Guidelines For Blocking Web sites / Sections
​First Conversion Day 2 – Now What!
​Staying Organized With Each day P/L File
​Drilling Down On The Knowledge & Optimizing
​Marketing campaign Kill Ratio Template
​How I Construction My Advert Checks in "Rounds"
​My Native Advertisements Scaling Information*
​How I Come Up With Angles to Check!
​** 2 "Observe Alongside" Marketing campaign Builds w/ Outcomes
​** My "Auto Guidelines" That Assist Optimize For You!!
​& SO MUCH MORE…
With Native Advertisements, I Turned A ClickBank Platinum Member!
Listed below are a few of my outcomes with Native Advertisements
More courses you might like