The ArmaniTalks Bundle – Social Skills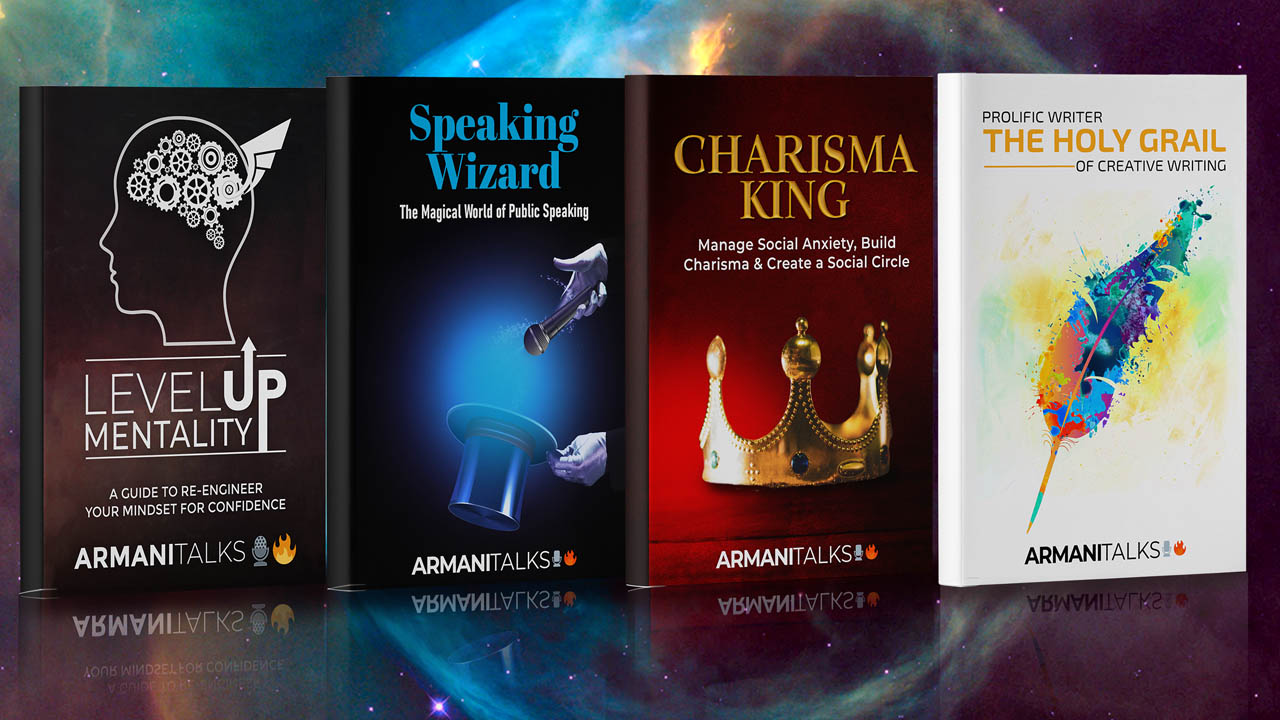 Premium
Learn online (no require download), easy download (Google Drive)

Ensure to get all files in the file list

Get free update course through your email

If you find a website cheaper than us, send it to us and we'll offer a cheaper price.

Last Updated Date: 08-24-2021
The ArmaniTalks Bundle - Social Skills (43.36 MB)
Last Updated Date: 08-24-2021
Google Drive Proof
The ArmaniTalks Bundle - Social Skills
Charisma King.pdf

Level Up Mentality.pdf

Prolific Writer.pdf

Speaking Wizard.pdf
The ArmaniTalks Bundle:
This bundle pack is your starter kit to build your communication skills & level up your confidence. You will take an in-depth look into the world of soft skills to learn more about the mind, public speaking, social skills & storytelling.
The bundle pack consists of:
-Level Up Mentality: A Guide to Re-Engineer your Mindset for Confidence
-Speaking Wizard: The Magical World of Public Speaking
-Charisma King: Level Up Your Social Skills
-Prolific Writer: The Holy Grail of Creative Writing
Let's cover what you can expect from each book!
?Level Up Mentality: A guide to Re-Engineer your Mindset for Confidence
The mind can be our best friend or our worst enemy. In the Level Up Mentality, you will learn practical strategies to tame the mind & skyrocket your confidence.
In this book, you will learn concepts such as:
How to build self-confidence by building a life purpose, competing with your prior day self & documenting your journey.
How to design an alter ego.
The difference between the conscious & subconscious mind.
Frameworks on how to learn, build skills & teach others.
Mind hacks to control your thoughts, actions & habits.
Emotional intelligence principles to regulate destructive emotions into productive fuel.
How to form relationships, build a tribe & navigate around toxic people.
Strategies for chronicling your level up journey to spread your message & build a legacy
What Others Are Saying:
I have always struggled to finish books. It's not because I don't enjoy reading, but rather my short attention span. This book was such an enjoyable read that I made it to the end faster than anything else I have ever read. The author's perspective of reprograming your mind to make every day more successful than the day before is literally mind changing. LOL Which is the point of the book, right?? Anyway, definitely give this book a try. You will love it and you'll probably immediately find ways to become more successful like I did after I read it.
⭐⭐⭐⭐⭐
Joshua Comingore, Founder of Buddy Dog Walking Services
We're taught a lot of knowledge that we can't physically use. Armani has a knack to give us knowledge that we can implement immediately. This book is a cheat code.
⭐⭐⭐⭐⭐
Tashiem Jordan, Musician & DJ
Awesome book! Very simple & to the point. Has completely flipped the way I think upside down! I recommend anyone & everyone read this book! Great job!
⭐⭐⭐⭐⭐
Ronald Rousseau II, University Student
?Speaking Wizard: The Magical World of Public Speaking
Speech anxiety is the #1 fear in the world. Luckily, anyone can learn public speaking. In the Speaking Wizard, you get an easy to read guide on how to dominate the stage.
You will learn:
Why Public Speaking is more important than ever.
How to manage speech anxiety.
The frameworks for building a speech.
How to properly practice a speech.
How to deliver a speech with swag.
BONUS section on Toastmasters.
More courses you might like