Tayo Aina – The Youtube Creator Academy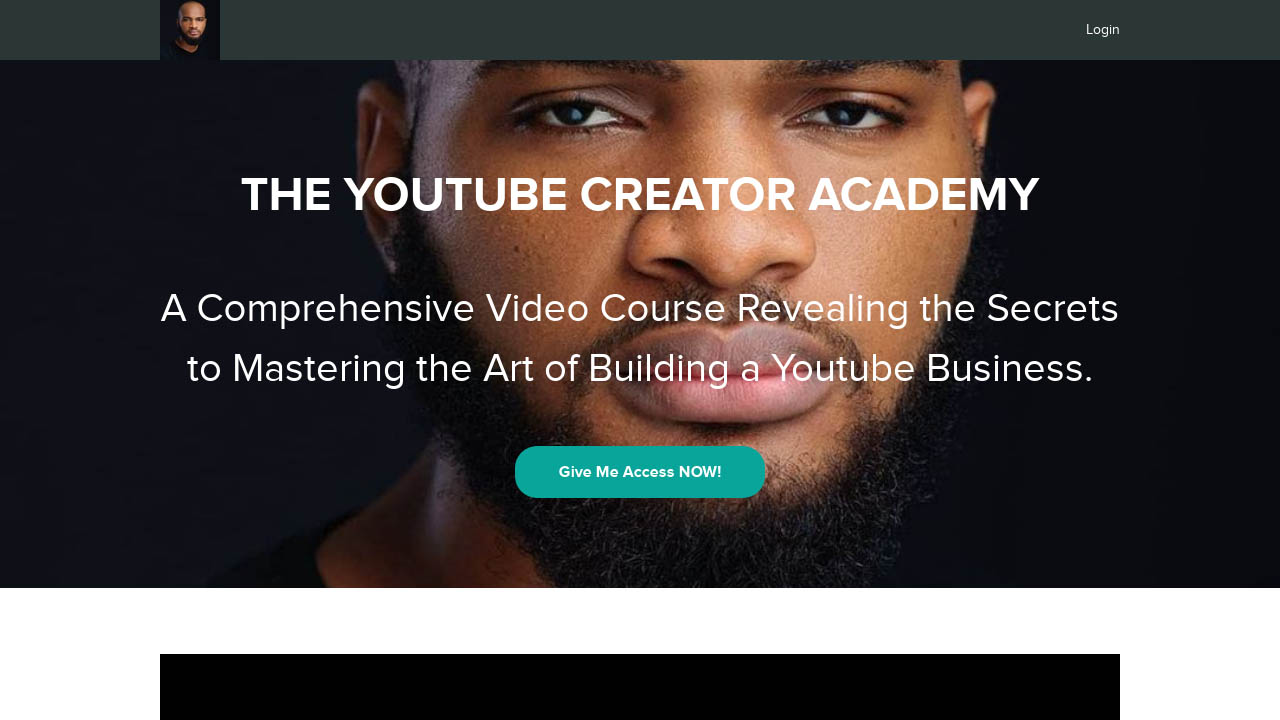 Premium
Learn online (no require download), easy download (Google Drive)

Ensure to get all files in the file list

Get free update course through your email

If you find a website cheaper than us, send it to us and we'll offer a cheaper price.

Last Updated Date: 09-02-2022
Tayo Aina - The Youtube Creator Academy (4.3 GB)
Last Updated Date: 09-02-2022
Google Drive Proof
Tayo Aina - The Youtube Creator Academy
Owner
Last modified
File size
02- How to get started with youtube
04- Shooting Videos with your Phone
05- What Professional Equipment to Use (DSLR)
08- Ninja Tactics to Getting Discovered & Getting Views
09- Youtube Monetization growth Hacks + How to beat the Algorithm
10- Understanding the Analytics
11- Scaling up your Media Business (How to make money outside Youtube)
12- Building your Audience
14- Zoom Q&A with the Community
Tayo Aina - The Youtube Creator Academy
01-Introduction
How I got Started From 0 to 285,000 Subscribers in 2 Years.mp4
me
Sep 02, 2022 me
86.4 MB
Tayo Aina - The Youtube Creator Academy
02- How to get started with youtube
How to overcome the fear of posting your first video.mp4
Introduction to Youtube.mp4
me
Sep 02, 2022 me
70.1 MB
What you need to get started.mp4
me
Sep 02, 2022 me
71.8 MB
Tayo Aina - The Youtube Creator Academy
03- Finding your Niche
How to Figure out your Niche.mp4
me
Sep 02, 2022 me
109.2 MB
Tayo Aina - The Youtube Creator Academy
04- Shooting Videos with your Phone
Best smartphone editing software.mp4
me
Sep 02, 2022 me
17.6 MB
Camera apps for mobile devices.mp4
me
Sep 02, 2022 me
17.3 MB
Gimbal for Mobile Devices.mp4
me
Sep 02, 2022 me
23.8 MB
Tayo Aina - The Youtube Creator Academy
05- What Professional Equipment to Use (DSLR)
Best Drones for Videos.mp4
me
Sep 02, 2022 me
43.7 MB
How Gimbals can level up your footage.mp4
me
Sep 02, 2022 me
24.2 MB
How to get the best lighting.mp4
How to get the perfect audio.mp4
me
Sep 02, 2022 me
34.8 MB
The best equipment for every budget range.mp4
What camera gear to use.mp4
me
Sep 02, 2022 me
128.7 MB
What is the best editing software.mp4
me
Sep 02, 2022 me
20.9 MB
Tayo Aina - The Youtube Creator Academy
06- Planning Your Video
How to Script your videos for Maximum Engagement.mp4
me
Sep 02, 2022 me
120.6 MB
How to come up with viral video ideas.mp4
me
Sep 02, 2022 me
84.2 MB
How to organize your files.mp4
me
Sep 02, 2022 me
33.6 MB
Videos that build a connection.mp4
me
Sep 02, 2022 me
65.2 MB
Tayo Aina - The Youtube Creator Academy
07- Editing your Video
How I Edit with Final Cut Pro.mp4
me
Sep 02, 2022 me
246.3 MB
How I Edit with Final Cut Pro 2.mp4
me
Sep 02, 2022 me
219 MB
How to edit on your phone.mp4
me
Sep 02, 2022 me
163.3 MB
How to find great music.mp4
How to make great intros.mp4
me
Sep 02, 2022 me
83.1 MB
Tayo Aina - The Youtube Creator Academy
08- Ninja Tactics to Getting Discovered & Getting Views
Best SEO tools to use to get discovered.mp4
me
Sep 02, 2022 me
140.3 MB
Does Collaboration Matter.mp4
me
Sep 02, 2022 me
53.5 MB
Does video length matter.mp4
me
Sep 02, 2022 me
34.7 MB
How the youtube algorithm works.mp4
me
Sep 02, 2022 me
70.7 MB
How to create clickable thumbnails.mp4
me
Sep 02, 2022 me
159.7 MB
How to make discoverable content.mp4
me
Sep 02, 2022 me
60.6 MB
How to pick the right titles for your videos.mp4
me
Sep 02, 2022 me
126.7 MB
How to send organic traffic to your channel.mp4
me
Sep 02, 2022 me
47.2 MB
Why Youtube Cards are Important.mp4
me
Sep 02, 2022 me
31.9 MB
Tayo Aina - The Youtube Creator Academy
09- Youtube Monetization growth Hacks + How to beat the Algorithm
How to build cash flow.mp4
me
Sep 02, 2022 me
36.9 MB
How to cross the monetization threshold.mp4
me
Sep 02, 2022 me
58.7 MB
How to get video Ideas from the search bar.mp4
me
Sep 02, 2022 me
31.3 MB
How to rank first on youtube.mp4
me
Sep 02, 2022 me
15.8 MB
Monetization strategies.mp4
me
Sep 02, 2022 me
71.4 MB
Should you livestream.mp4
me
Sep 02, 2022 me
34.4 MB
What to do after posting.mp4
When is the best time to post.mp4
me
Sep 02, 2022 me
56.6 MB
Why you should diversify.mp4
me
Sep 02, 2022 me
55.9 MB
You wont grow unless you ask people to do this.mp4
Tayo Aina - The Youtube Creator Academy
10- Understanding the Analytics
How to read and understand analytics.mp4
me
Sep 02, 2022 me
177.3 MB
Understanding the Youtube backend.mp4
me
Sep 02, 2022 me
26.5 MB
Why your videos CPM Matters.mp4
me
Sep 02, 2022 me
45.8 MB
Tayo Aina - The Youtube Creator Academy
11- Scaling up your Media Business (How to make money outside Youtube)
How to build an audience.mp4
me
Sep 02, 2022 me
81.3 MB
How to charge for sponsorship.mp4
me
Sep 02, 2022 me
64.4 MB
me
Sep 02, 2022 me
77.4 MB
How to reach out to brands.mp4
me
Sep 02, 2022 me
150.6 MB
More ways to monetize your channel.mp4
me
Sep 02, 2022 me
155.5 MB
Tayo Aina - The Youtube Creator Academy
12- Building your Audience
How to build your youtube community.mp4
me
Sep 02, 2022 me
134.3 MB
Tayo Aina - The Youtube Creator Academy
13-Congratulations
The journey and why its important.mp4
me
Sep 02, 2022 me
86.2 MB
Tayo Aina - The Youtube Creator Academy
14- Zoom Q&A with the Community
Q and A Community Lecture 01.mp4
me
Sep 02, 2022 me
456 MB
THE YOUTUBE CREATOR ACADEMY
A Complete Video Course Revealing the Secrets and techniques to Mastering the Artwork of Constructing a Youtube Enterprise.
Give Me Entry NOW!
LEARN MY SECRETS OF MAKING YOUTUBE VIDEOS THAT HAVE PROPELLED ME TO YOUTUBE SUCCESS!
In 2019 I had Zero to no following on any social media platforms. Quick-ahead to 2021 and I've been capable of go from having ZERO social media presence, ZERO prior video, enhancing, or YouTube expertise…to now having over 304,000+ YouTube Subscribers, 28,000,000+ views, 46,000+ Instagram followers, 23,000+ Twitter followers, 40,000+ Tik Tok followers, and 23,000+ Fb followers fully organically, ranging from scratch. Most of this progress occurred up to now 24 months and these are the precise methods and search engine marketing progress hacks that received me right here.
With these methods, I used to be capable of develop my whole YouTube viewers and on-line profession PART-TIME, whereas nonetheless working a full-time job as an Uber driver through the day. I've discovered by YEARS of trial and error, repeatedly failing, determining what truly works, and watching tons of YouTube movies daily to select them aside and be taught among the secrets and techniques of viral progress.
I have been capable of slender down and pinpoint particular strategies that result in ORGANIC progress on YouTube, and several other tremendous-straightforward "hacks" to double your youtube advert income inside weeks and none of this requires any advert spend.
This program took me 6 months to place collectively and it has over 3 hours of content material so that you can watch and be taught. I made it as complete as attainable and made positive it covers EVERYTHING. That is the kind, after all, I want somebody made for me after I began out.
With this course, you'll take an inside look into my whole blueprint of creating YouTube movies and turning it right into a extremely worthwhile enterprise. You probably have by no means made a YouTube video earlier than otherwise you at the moment have one and you're struggling to make it worthwhile then this course is for you. Generally it is the smallest, easiest tweaks that make the most important distinction…all of that's proper in right here!
More courses you might like