Social Media Examiner – The Social Video Summit 2021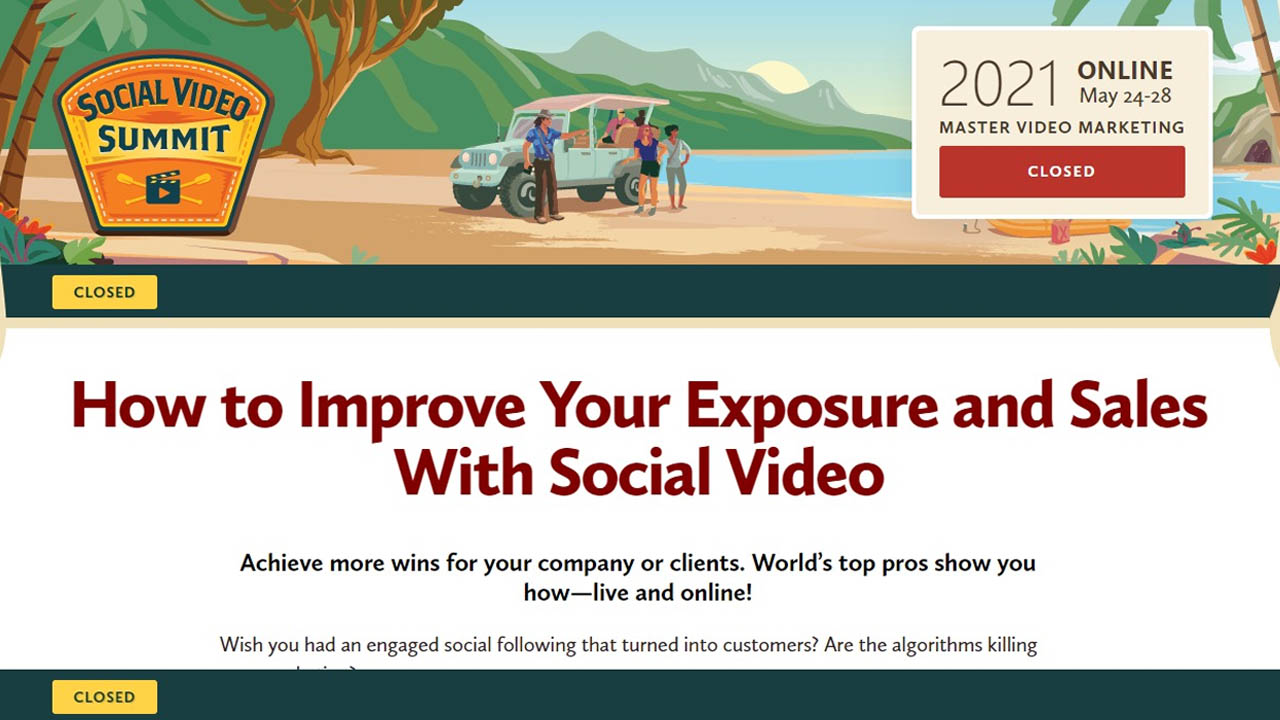 Premium
Learn online (no require download), easy download (Google Drive)

Ensure to get all files in the file list

Get free update course through your email

If you find a website cheaper than us, send it to us and we'll offer a cheaper price.

Last Updated Date: 08-14-2021
Social Media Examiner - The Social Video Summit 2021 (12.3 GB)
Last Updated Date: 08-14-2021
Google Drive Proof
Social Media Examiner - The Social Video Summit 2021
Files
00-Speaker Contact Info.pdf
01-How to Confidently Create Social Video on a Budget - Pelipina Trip.mp4
01-How to Confidently Create Social Video on a Budget - Pelipina Trip.pdf
02-Social Video Made Easy - How to Batch Your Creativity - Natasha Samuel.mp4
02-Social Video Made Easy - How to Batch Your Creativity - Natasha Samuel.pdf
03-Facebook Video Success - How to Get More Shares, Views, and Sales - Matt Johnston.mp4
03-Facebook Video Success - How to Get More Shares, Views, and Sales - Matt Johnston.pdf
04-YouTube Live - How to Create Massive Loyalty on the Largest Video Platform - Luria Petrucci.mp4
04-YouTube Live - How to Create Massive Loyalty on the Largest Video Platform - Luria Petrucci.pdf
05-Instagram Reels - How to Grow Your Reach and Your Sales - Elise Darma.mp4
05-Instagram Reels - How to Grow Your Reach and Your Sales - Elise Darma.pdf
06-Twitter Video - How to Successfully Build Your Brand on Twitter - Madalyn Sklar.mp4
06-Twitter Video - How to Successfully Build Your Brand on Twitter - Madalyn Sklar.pdf
07-Instagram Live - How to Develop a Loyal and Engaged Following - Nicky Saunders.mp4
07-Instagram Live - How to Develop a Loyal and Engaged Following - Nicky Saunders.pdf
08-Instagram Stories Video - How to Improve Your Engagement and Your Sales - Vanessa Lau.mp4
08-Instagram Stories Video - How to Improve Your Engagement and Your Sales - Vanessa Lau.pdf
09-Facebook Live Video That Converts - How to Increase Your Reach, Results, and ROI - Mari Smith.mp4
09-Facebook Live Video That Converts - How to Increase Your Reach, Results, and ROI - Mari Smith.pdf
10-TikTok Marketing Strategy - How to Sell Your Products and Services - Wave Wyld.mp4
10-TikTok Marketing Strategy - How to Sell Your Products and Services - Wave Wyld.pdf
11-TikTok for Business - How to Get Started - Keenya Kelly.mp4
11-TikTok for Business - How to Get Started - Keenya Kelly.pdf
12-YouTube Shorts for Business - The Next Big Opportunity for Your Brand - Derral Eves.mp4
12-YouTube Shorts for Business - The Next Big Opportunity for Your Brand - Derral Eves.pdf
00-Speaker Contact Info.pdf

01-How to Confidently Create Social Video on a Budget - Pelipina Trip.mp4

01-How to Confidently Create Social Video on a Budget - Pelipina Trip.pdf

02-Social Video Made Easy - How to Batch Your Creativity - Natasha Samuel.mp4

02-Social Video Made Easy - How to Batch Your Creativity - Natasha Samuel.pdf

03-Facebook Video Success - How to Get More Shares, Views, and Sales - Matt Johnston.mp4

03-Facebook Video Success - How to Get More Shares, Views, and Sales - Matt Johnston.pdf

04-YouTube Live - How to Create Massive Loyalty on the Largest Video Platform - Luria Petrucci.mp4

04-YouTube Live - How to Create Massive Loyalty on the Largest Video Platform - Luria Petrucci.pdf

05-Instagram Reels - How to Grow Your Reach and Your Sales - Elise Darma.mp4

05-Instagram Reels - How to Grow Your Reach and Your Sales - Elise Darma.pdf

06-Twitter Video - How to Successfully Build Your Brand on Twitter - Madalyn Sklar.mp4

06-Twitter Video - How to Successfully Build Your Brand on Twitter - Madalyn Sklar.pdf

07-Instagram Live - How to Develop a Loyal and Engaged Following - Nicky Saunders.mp4

07-Instagram Live - How to Develop a Loyal and Engaged Following - Nicky Saunders.pdf

08-Instagram Stories Video - How to Improve Your Engagement and Your Sales - Vanessa Lau.mp4

08-Instagram Stories Video - How to Improve Your Engagement and Your Sales - Vanessa Lau.pdf

09-Facebook Live Video That Converts - How to Increase Your Reach, Results, and ROI - Mari Smith.mp4

09-Facebook Live Video That Converts - How to Increase Your Reach, Results, and ROI - Mari Smith.pdf

10-TikTok Marketing Strategy - How to Sell Your Products and Services - Wave Wyld.mp4

10-TikTok Marketing Strategy - How to Sell Your Products and Services - Wave Wyld.pdf

11-TikTok for Business - How to Get Started - Keenya Kelly.mp4

11-TikTok for Business - How to Get Started - Keenya Kelly.pdf

12-YouTube Shorts for Business - The Next Big Opportunity for Your Brand - Derral Eves.mp4

12-YouTube Shorts for Business - The Next Big Opportunity for Your Brand - Derral Eves.pdf
How to Improve Your Exposure and Sales With Social Video
Achieve more wins for your company or clients. World's top pros show you how—live and online!
Wish you had an engaged social following that turned into customers? Are the algorithms killing your marketing?
Want to succeed with social video, but something's stopping you? Perhaps you think you don't have the time, know-how, or skills to compete.
Could social video be amazing for your business, but you haven't been able to figure it out?
The good news is you're not alone. 70% of marketers want to learn more about social video, according to our research.
But, if you want social video to bring you more exposure, leads, and sales, something's got to change.
If you truly want to make social video work for you, keep reading. It's not impossible. You DO NOT need to be a professional videographer, a talented editor, or have an amazing personality.
Become a Social Video Marketing Pro Without Costly Equipment
The key to increasing your reach, creating amazing engagement, and ultimately selling more—without the need for expensive equipment—is to discover the strategies of other successful social video marketers.
? It no longer makes sense to put off your social video plans. Check this out: 72% of marketers intend on increasing their social video activities this year on Instagram! Are you one of them? There are also amazing social video opportunities on Facebook, YouTube, TikTok, and Twitter!
✋? As soon as possible, you need to begin the intentional process of improving your social video marketing across the major platforms. And yes, you can simply decide to become a better social video marketer, and then do just that—without a huge learning curve.
How Do You Intentionally Improve Your Marketing Results?
Michael-Stelzner-HeadshotHi, my name is Michael Stelzner. I'm the founder of Social Media Examiner, host of a top marketing podcast, and the creator of the Social Media Marketing World conference.
Like you, I know I need to do more with social video. I've watched as so many marketers have benefited from the growth of Instagram Stories, TikTok, Instagram Reels, and so much more.
My 2021 research shows that social video is on the rise. I knew we needed to help marketers understand how to embrace this growing opportunity.
I scoured the planet, discovering and developing the best talent I could find. I formulated a vetting process to ensure we only recruit pros who are skilled practitioners, excellent teachers, and have a heart to share what they've discovered. I made an intentional effort to develop strong relationships with the best social video marketers.
I'm excited to bring to you the largest and best gathering of social video marketing experts the world has ever seen (scroll down for the list).
And while you might not recognize every name, trust me that they're all excellent and will empower you with social video marketing strategies that will help you increase your reach, engagement, and sales.
Will you take the action needed to improve your social video marketing? Isn't it time to move off the sidelines and get social video working for your business?
More courses you might like