Robert Williams – Endless Clients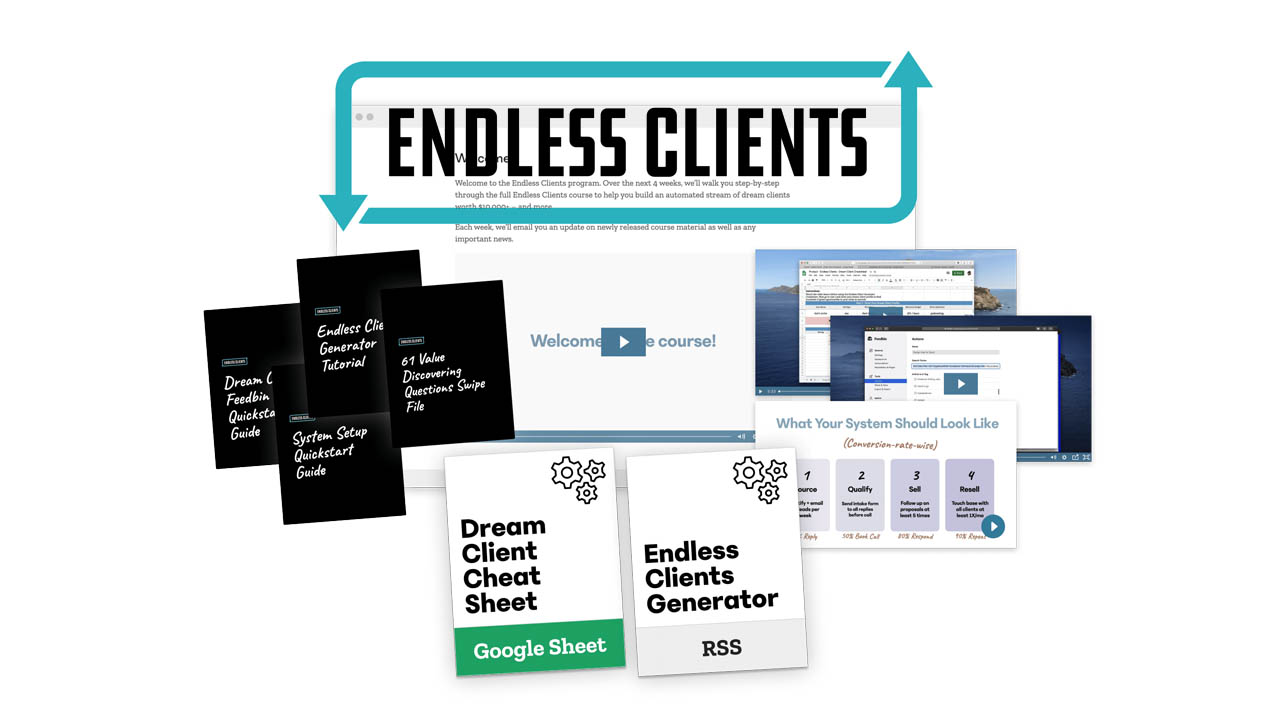 Premium
Learn online (no require download), easy download (Google Drive)

Ensure to get all files in the file list

Get free update course through your email

If you find a website cheaper than us, send it to us and we'll offer a cheaper price.

Last Updated Date: 07-25-2021
Robert Williams - Endless Clients (4.01 GB)
Last Updated Date: 07-25-2021
Google Drive Proof
Robert Williams - Endless Clients
Folders
Files
Endless-Clients-5-Client-Intake-Forms.pdf
Endless-Clients-6-Great-Freelancer-Contact-Forms.pdf
Endless-Clients-16-Current-Client-Templates.pdf
Endless-Clients-Linkedin-Slack-Email-Template.pdf
Endless-Clients-Module-1-High-Value-Discovering-Questions-Swipe.pdf
Endless-Clients-Module-1-Lesson-2-Endless-Client-Generator-Tutorial.pdf
Endless-Clients-Module-1-Lesson-2-Feedbin-Rules-3.pdf
Endless-Clients-Module-1-Lesson-3-Dream-Client-Cheatsheet-Tutorial-4.pdf
Endless-Clients-Module-1-Worksheet-1.pdf
Endless-Clients-Module-3-Lesson-1-Worksheet.pdf
Endless-Clients-Module-3-Lesson-2-Linkedin-Quickstart.pdf
Endless-Clients-Module-4-Lesson-1-Worksheet.pdf
Endless Clients - Dream Client Cheatsheet.xlsx
Module 1
Files
Lesson 1- Setting Up Your System The Right Way - Folyo.mp4
Lesson 2- How to Add Thousands of Dream Client Sources - Folyo.mp4
Lesson 3- How to Find Thousands of New Client Streams in Minutes - Folyo.mp4
Lesson 4- Bonus - How to Find Clients Looking for a Niche Skill (React.js) - Folyo.mp4
Module2
Files
#4562 - _Module 2 - Your Offer - Folyo_.pdf
#4563 - _Lesson 1_ How to Create an Irresistible Offer That Attracts High-Value Clients - Folyo_.pdf
#4564 - _Lesson 2_ How to Find In-Demand Positioning in 45 Minutes Instead of Years - Folyo_.pdf
#4565 - _Lesson 3_ How to Find a Gold-Mine of $10,000+ Projects on Google - Folyo_.pdf
Endless-Clients-8-Great-Freelancer-Case-Studies.pdf
Endless-Clients-11-Website-Great-Headlines-Value-Propositions.pdf
Endless-Clients-Google-Search-Paramters.pdf
Endless-Clients-Module-2-Lesson-1-Worksheet.pdf
Endless-Clients-Module-2-Lesson-3-Google-Quickstart.pdf
Endless-Clients-Positioning-Quickstart.pdf
Lesson 1- How to Create an Irresistible Offer That Attracts High-Value Clients - Folyo.mp4
Lesson 2- How to Find In-Demand Positioning in 45 Minutes Instead of Years - Folyo.mp4
Lesson 3- How to Find a Gold-Mine of $10,000+ Projects on Google - Folyo.mp4
Module3
Files
#4577 - _Module 3 - Your Selling - Folyo_.pdf
#4578 - _Lesson 1_ How to Sell to More Great Clients Even if You Hate Marketing - Folyo_.pdf
#4579 - _Lesson 2_ How to use LinkedIn to generate 5+ $10k project leads per week - Folyo_.pdf
#4580 - _Lesson 3_ How to Maximize Your Email Response Rate - Folyo_.pdf
#4581 - _Lesson 4_ Bonus - How to Use Pipedrive - Folyo_.pdf
Endless-Clients-6-Great-Freelancer-Contact-Forms.pdf
Endless-Clients-Module-3-Lesson-1-Worksheet.pdf
Endless-Clients-Module-3-Lesson-2-Linkedin-Quickstart.pdf
Endless-Clients-Real-Website-Design-Proposal-Template.pdf
Endless-Clients-The-20-Best-Cold-Email-Templates-Ever.pdf
Endless-Clients-The-20-Best-Cold-Email-Templates-Ever_2.pdf
Lesson 1- How to Sell to More Great Clients Even if You Hate Marketing - Folyo.mp4
Lesson 2- How to use LinkedIn to generate 5+ $10k project leads per week - Folyo.mp4
Lesson 3- How to Maximize Your Email Response Rate - Folyo.mp4
Lesson 4- Bonus - How to Use Pipedrive - Folyo.mp4
Module4
Files
#4723 - _Module 4 - Your Growth - Folyo_.jpg
#4724 - _Lesson 1_ How to Optimize Your System for Growth - Folyo_.pdf
#4725 - _Lesson 2_ How to find 5+ $10k project each week on Slack - Folyo_.pdf
#4726 - _Lesson 3_ VA Asana Training Sample - Folyo_.pdf
1-Lesson 1- How to Optimize Your System for Growth - Folyo.mp4
2-Lesson 2- How to find 5+ $10k project each week on Slack - Folyo.mp4
3-Lesson 3- VA Asana Training Sample - Folyo.mp4
Endless-Clients-5-Client-Intake-Forms.pdf
Endless-Clients-16-Current-Client-Templates.pdf
Endless-Clients-Linkedin-Slack-Email-Template.pdf
Endless-Clients-Module-4-Lesson-1-Worksheet.pdf
Endless-Clients-VA-Outsourcing-Document.pdf
Endless-Clients-5-Client-Intake-Forms.pdf

Endless-Clients-6-Great-Freelancer-Contact-Forms.pdf

Endless-Clients-16-Current-Client-Templates.pdf

Endless-Clients-Linkedin-Slack-Email-Template.pdf

Endless-Clients-Module-1-High-Value-Discovering-Questions-Swipe.pdf

Endless-Clients-Module-1-Lesson-2-Endless-Client-Generator-Tutorial.pdf

Endless-Clients-Module-1-Lesson-2-Feedbin-Rules-3.pdf

Endless-Clients-Module-1-Lesson-3-Dream-Client-Cheatsheet-Tutorial-4.pdf

Endless-Clients-Module-1-Worksheet-1.pdf

Endless-Clients-Module-3-Lesson-1-Worksheet.pdf

Endless-Clients-Module-3-Lesson-2-Linkedin-Quickstart.pdf

Endless-Clients-Module-4-Lesson-1-Worksheet.pdf

Endless Clients - Dream Client Cheatsheet.xlsx

Module 1

Lesson 1- Setting Up Your System The Right Way - Folyo.mp4

Lesson 2- How to Add Thousands of Dream Client Sources - Folyo.mp4

Lesson 3- How to Find Thousands of New Client Streams in Minutes - Folyo.mp4

Lesson 4- Bonus - How to Find Clients Looking for a Niche Skill (React.js) - Folyo.mp4

Module2

#4562 - _Module 2 - Your Offer - Folyo_.pdf

#4563 - _Lesson 1_ How to Create an Irresistible Offer That Attracts High-Value Clients - Folyo_.pdf

#4564 - _Lesson 2_ How to Find In-Demand Positioning in 45 Minutes Instead of Years - Folyo_.pdf

#4565 - _Lesson 3_ How to Find a Gold-Mine of $10,000+ Projects on Google - Folyo_.pdf

Endless-Clients-8-Great-Freelancer-Case-Studies.pdf

Endless-Clients-11-Website-Great-Headlines-Value-Propositions.pdf

Endless-Clients-Google-Search-Paramters.pdf

Endless-Clients-Module-2-Lesson-1-Worksheet.pdf

Endless-Clients-Module-2-Lesson-3-Google-Quickstart.pdf

Endless-Clients-Positioning-Quickstart.pdf

Lesson 1- How to Create an Irresistible Offer That Attracts High-Value Clients - Folyo.mp4

Lesson 2- How to Find In-Demand Positioning in 45 Minutes Instead of Years - Folyo.mp4

Lesson 3- How to Find a Gold-Mine of $10,000+ Projects on Google - Folyo.mp4

Module3

#4577 - _Module 3 - Your Selling - Folyo_.pdf

#4578 - _Lesson 1_ How to Sell to More Great Clients Even if You Hate Marketing - Folyo_.pdf

#4579 - _Lesson 2_ How to use LinkedIn to generate 5+ $10k project leads per week - Folyo_.pdf

#4580 - _Lesson 3_ How to Maximize Your Email Response Rate - Folyo_.pdf

#4581 - _Lesson 4_ Bonus - How to Use Pipedrive - Folyo_.pdf

Endless-Clients-6-Great-Freelancer-Contact-Forms.pdf

Endless-Clients-Module-3-Lesson-1-Worksheet.pdf

Endless-Clients-Module-3-Lesson-2-Linkedin-Quickstart.pdf

Endless-Clients-Real-Website-Design-Proposal-Template.pdf

Endless-Clients-The-20-Best-Cold-Email-Templates-Ever.pdf

Endless-Clients-The-20-Best-Cold-Email-Templates-Ever_2.pdf

Lesson 1- How to Sell to More Great Clients Even if You Hate Marketing - Folyo.mp4

Lesson 2- How to use LinkedIn to generate 5+ $10k project leads per week - Folyo.mp4

Lesson 3- How to Maximize Your Email Response Rate - Folyo.mp4

Lesson 4- Bonus - How to Use Pipedrive - Folyo.mp4

Module4

#4723 - _Module 4 - Your Growth - Folyo_.jpg

#4724 - _Lesson 1_ How to Optimize Your System for Growth - Folyo_.pdf

#4725 - _Lesson 2_ How to find 5+ $10k project each week on Slack - Folyo_.pdf

#4726 - _Lesson 3_ VA Asana Training Sample - Folyo_.pdf

1-Lesson 1- How to Optimize Your System for Growth - Folyo.mp4

2-Lesson 2- How to find 5+ $10k project each week on Slack - Folyo.mp4

3-Lesson 3- VA Asana Training Sample - Folyo.mp4

Endless-Clients-5-Client-Intake-Forms.pdf

Endless-Clients-16-Current-Client-Templates.pdf

Endless-Clients-Linkedin-Slack-Email-Template.pdf

Endless-Clients-Module-4-Lesson-1-Worksheet.pdf

Endless-Clients-VA-Outsourcing-Document.pdf
Here's what I know. Not being confident that you can find clients any time you want bleeds chaos into every area of your business.
When you're always counting on work coming TO YOU, it feels like your luck might run out at any second.
But for the past 7+ years, I've been able to solve this problem with a few simple systems. Every week, I find atleast ten $10,000+ client projects in need of high-value work.
The results have been amazing: millions of dollars in client work generated each year.
Here's why it matters to you. Nothing about this requires special talent or skill. Anyone with normal competency can find these clients, for the specific type of work they love do, for free.
This page will share how. In detail. I hope that it transforms how you think about lead generation in your business. Whether or not you decide to try the program. Ready? Let's go.
You can probably think of 10+ ways to get results for your clients off the top of your head but when it comes to your own business, most of us are lost. The longer you've been in business, the worse it gets:
We know bombarding our network on Facebook, LinkedIn, Twitter and others and announcing "We're available!" for work has never gotten us a single project. Yet we do it continuously.
We launch new websites to the sound of crickets. Only then asking: how do I actually get clients to come to it?
We pull-the-plug on failed niche after failed niche. Never knowing exactly which of our skills is actually valuable and to who.
And we constantly get distracted by shiny tactics like the 59 best SEO tips, Instagram stories, or whatever else happens to come across our Twitter feed that day.
But constantly being pulled in 21 different directions is no way to run a business.
And scrambling from project to project means you're constantly trading your time for cash but never actually getting ahead.
Worse, your skills start to plateau. You know the feeling if you've ever looked around and asked: wait, exactly how am I valuable in 2021, again?
It's scary. But it won't change on its own. It's time to change the way we think:
More courses you might like