Peter Akkies – Organize Your Life With Todoist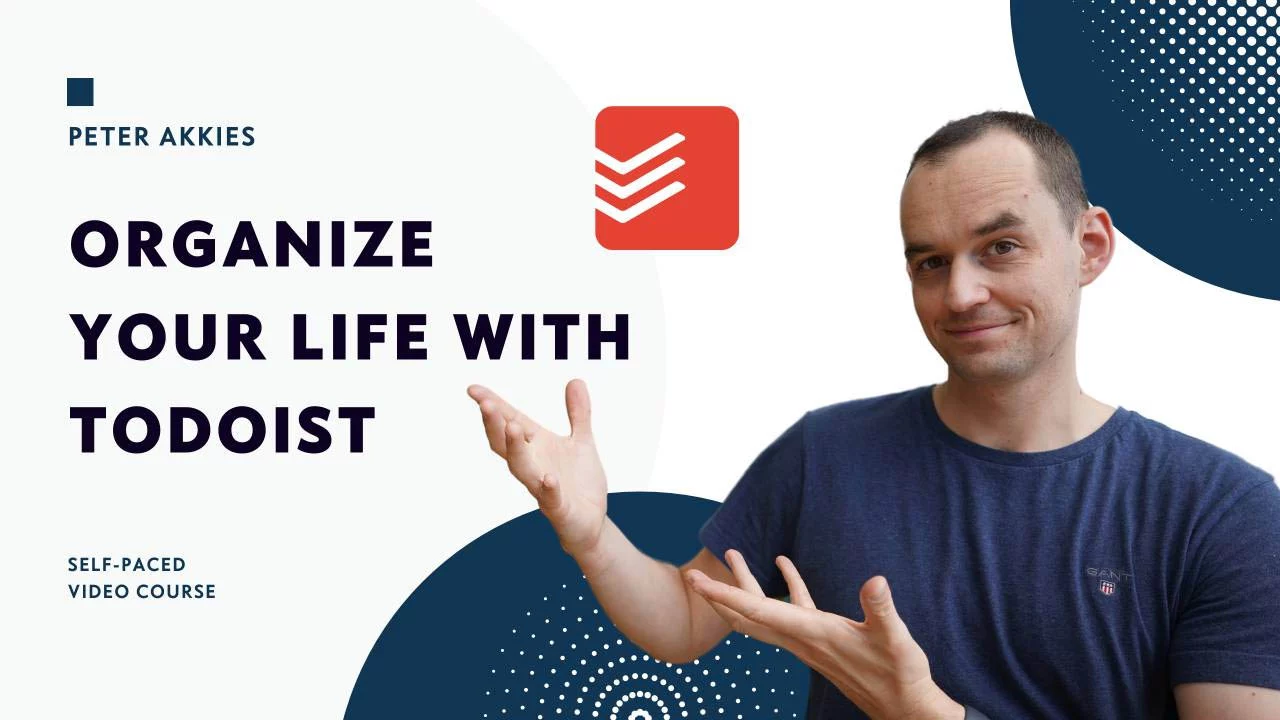 Premium
Learn online (no require download), easy download (Google Drive)

Ensure to get all files in the file list

Get free update course through your email

If you find a website cheaper than us, send it to us and we'll offer a cheaper price.

Last Updated Date: 07-08-2023
Peter Akkies – Organize Your Life With Todoist (1.6 GB)
Last Updated Date: 07-08-2023
Google Drive Proof
Peter Akkies – Organize Your Life With Todoist
Owner
Last modified
File size
01-Module 1- Capturing Your To-Dos
02-Module 2- Organizing Your To-Dos
03-Module 3- Planning Today & Planning Ahead
04-Module 4- Integrating Todoist into Your Workflows
05-Module 5- Using Todoist as Efficiently as Possible
06-Module 6- Collaborating Using Todoist
Peter Akkies – Organize Your Life With Todoist
01-Module 1- Capturing Your To-Dos
01-Welcome & About the Course.png
me
Jul 08, 2023 me
525.2 KB
01-Welcome & About the Course.rtf
me
Jul 08, 2023 me
52.9 KB
01-Welcome and About the Course.mp4
me
Jul 08, 2023 me
30.4 MB
02-Todoist Cheat Sheet.pdf
me
Jul 08, 2023 me
71.9 KB
02-Todoist Cheat Sheet.png
me
Jul 08, 2023 me
187.5 KB
03-Getting Tasks Out of Your Head and Into Todoist.mp4
me
Jul 08, 2023 me
57.4 MB
03-Getting Tasks Out of Your Head and Into Todoist.png
me
Jul 08, 2023 me
201.5 KB
03-Getting Tasks Out of Your Head and Into Todoist.rtf
me
Jul 08, 2023 me
55.3 KB
03-To-Do Trigger List.pdf
04-Creating Tasks from Outside Todoist.mp4
me
Jul 08, 2023 me
85.5 MB
04-Creating Tasks from Outside Todoist.png
me
Jul 08, 2023 me
255.3 KB
04-Creating Tasks from Outside Todoist.rtf
me
Jul 08, 2023 me
62.7 KB
05-Processing Your Email with Todoist.mp4
me
Jul 08, 2023 me
80.3 MB
05-Processing Your Email with Todoist.png
me
Jul 08, 2023 me
168.3 KB
05-Processing Your Email with Todoist.rtf
me
Jul 08, 2023 me
53.7 KB
Peter Akkies – Organize Your Life With Todoist
02-Module 2- Organizing Your To-Dos
01-Organizing Your Life with Top-Level Areas.mp4
me
Jul 08, 2023 me
34.4 MB
01-Organizing Your Life with Top-Level Areas.png
me
Jul 08, 2023 me
212.8 KB
01-Organizing Your Life with Top-Level Areas.rtf
me
Jul 08, 2023 me
51.5 KB
02-Organizing Your Projects.mp4
me
Jul 08, 2023 me
64.8 MB
02-Organizing Your Projects.png
me
Jul 08, 2023 me
208.1 KB
02-Organizing Your Projects.rtf
me
Jul 08, 2023 me
52.8 KB
03-Moving Tasks From the Inbox to Projects.mp4
me
Jul 08, 2023 me
28.6 MB
03-Moving Tasks From the Inbox to Projects.png
me
Jul 08, 2023 me
203.3 KB
03-Moving Tasks From the Inbox to Projects.rtf
me
Jul 08, 2023 me
45.4 KB
04-Labeling Your Tasks (Tagging).mp4
me
Jul 08, 2023 me
82.5 MB
04-Labeling Your Tasks (Tagging).png
me
Jul 08, 2023 me
209.1 KB
04-Labeling Your Tasks (Tagging).rtf
me
Jul 08, 2023 me
57.7 KB
Peter Akkies – Organize Your Life With Todoist
03-Module 3- Planning Today & Planning Ahead
01-How to Use Due Dates.mp4
me
Jul 08, 2023 me
75.8 MB
01-How to Use Due Dates.png
me
Jul 08, 2023 me
212.5 KB
01-How to Use Due Dates.rtf
me
Jul 08, 2023 me
9.1 MB
02-Setting Up Repeating Tasks.mp4
me
Jul 08, 2023 me
76.8 MB
02-Setting Up Repeating Tasks.png
me
Jul 08, 2023 me
220 KB
02-Setting Up Repeating Tasks.rtf
me
Jul 08, 2023 me
66.1 KB
03-Using Task Reminders.mp4
me
Jul 08, 2023 me
55.8 MB
03-Using Task Reminders.png
me
Jul 08, 2023 me
217.5 KB
03-Using Task Reminders.rtf
me
Jul 08, 2023 me
52.3 KB
04-Prioritizing Your Tasks.mp4
me
Jul 08, 2023 me
40.8 MB
04-Prioritizing Your Tasks.png
me
Jul 08, 2023 me
214.8 KB
04-Prioritizing Your Tasks.rtf
me
Jul 08, 2023 me
46.8 KB
05-Planning Your Productive Day.mp4
me
Jul 08, 2023 me
106.4 MB
05-Planning Your Productive Day.png
me
Jul 08, 2023 me
208.2 KB
05-Planning Your Productive Day.rtf
me
Jul 08, 2023 me
63.7 KB
06-The Weekly Review- Making Sure Nothing Slips Through the Cracks.mp4
me
Jul 08, 2023 me
119 MB
06-The Weekly Review- Making Sure Nothing Slips Through the Cracks.png
me
Jul 08, 2023 me
229.7 KB
06-The Weekly Review- Making Sure Nothing Slips Through the Cracks.rtf
me
Jul 08, 2023 me
58.5 KB
Peter Akkies – Organize Your Life With Todoist
04-Module 4- Integrating Todoist into Your Workflows
01-What Belongs in Todoist.mp4
me
Jul 08, 2023 me
84.1 MB
01-What Belongs in Todoist.png
me
Jul 08, 2023 me
210.2 KB
01-What Belongs in Todoist.rtf
me
Jul 08, 2023 me
57.1 KB
02-Integrating Todoist with Your Calendar.mp4
me
Jul 08, 2023 me
86.8 MB
02-Integrating Todoist with Your Calendar.png
me
Jul 08, 2023 me
321.5 KB
02-Integrating Todoist with Your Calendar.rtf
me
Jul 08, 2023 me
54.3 KB
03-Using Todoist Widgets on Your Phone.mp4
me
Jul 08, 2023 me
33.5 MB
03-Using Todoist Widgets on Your Phone.png
me
Jul 08, 2023 me
304.8 KB
03-Using Todoist Widgets on Your Phone.rtf
me
Jul 08, 2023 me
46.1 KB
04-Using Todoist Extensions and Integrations.mp4
me
Jul 08, 2023 me
21.7 MB
04-Using Todoist Extensions and Integrations.png
me
Jul 08, 2023 me
248.9 KB
04-Using Todoist Extensions and Integrations.rtf
me
Jul 08, 2023 me
43.8 KB
05-Tracking Your Habits with Todoist.mp4
me
Jul 08, 2023 me
63.1 MB
05-Tracking Your Habits with Todoist.png
me
Jul 08, 2023 me
206.8 KB
05-Tracking Your Habits with Todoist.rtf
me
Jul 08, 2023 me
56.5 KB
Peter Akkies – Organize Your Life With Todoist
05-Module 5- Using Todoist as Efficiently as Possible
01-Fast Capturing and Natural Language Recognition.mp4
me
Jul 08, 2023 me
49.4 MB
01-Fast Capturing and Natural Language Recognition.png
me
Jul 08, 2023 me
226.3 KB
01-Fast Capturing and Natural Language Recognition.rtf
me
Jul 08, 2023 me
51.5 KB
02-Saving Time with Templates.mp4
me
Jul 08, 2023 me
104.1 MB
02-Saving Time with Templates.png
me
Jul 08, 2023 me
224.5 KB
02-Saving Time with Templates.rtf
me
Jul 08, 2023 me
57.2 KB
03-Customizing Todoist's Settings.mp4
me
Jul 08, 2023 me
46.1 MB
03-Customizing Todoist's Settings.png
me
Jul 08, 2023 me
218.5 KB
03-Customizing Todoist's Settings.rtf
me
Jul 08, 2023 me
47.4 KB
04-Creating More Filters (Custom Views).mp4
me
Jul 08, 2023 me
55.6 MB
04-Creating More Filters (Custom Views).png
me
Jul 08, 2023 me
215.1 KB
04-Creating More Filters (Custom Views).rtf
me
Jul 08, 2023 me
37.6 MB
Peter Akkies – Organize Your Life With Todoist
06-Module 6- Collaborating Using Todoist
Coming Soon. Here's Why.png
me
Jul 08, 2023 me
61.1 KB
Coming Soon. Here's Why.rtf
me
Jul 08, 2023 me
41.2 KB
Peter Akkies – Organize Your Life With Todoist
07-Conclusion
01-Thank You! (And Next Steps).mp4
me
Jul 08, 2023 me
102.1 MB
01-Thank You! (And Next Steps).png
me
Jul 08, 2023 me
519 KB
01-Thank You! (And Next Steps).rtf
me
Jul 08, 2023 me
51.5 KB
me
Jul 08, 2023 me
61.6 KB
TACKLE YOUR TO-DOS WITH TODOIST
Feeling overwhelmed? To-do checklist a jumble? Tried to make use of Todoist with out success?
Organizing your to-dos helps you present up as your greatest self at house and at work. Todoist will assist you get there—if you know the way to make use of it. That's what you'll be taught on this course.
WHAT PEOPLE SAY ABOUT EARLIER COURSES…
MAX JIMENEZ
"It's solely been per week since I purchased Peter's course and my life hasn't felt this organized ever."
PAUL CHRISTY
"Managing 500 workers and a $40 million finances means I've lots of initiatives and duties. Because of Peter's course I'm beginning the week super-charged with my schedule and duties lined up."
VIOLET PIDGORNA
"I went from 50% productiveness to 1000%. I completed my 2 College programs this August with A and A+ and on the identical time launched 2 new merchandise whereas nonetheless sustaining my enterprise and its present merchandise, multi functional month!"
Do you're feeling overwhelmed?
Do you spend extra time on pressing duties than on vital duties?
Do you resort to pen and paper to plan your day? Have you ever tried utilizing Todoist earlier than, solely to surrender in frustration?
In that case, you're in the proper place. On this video course, you'll be taught an Todoist workflow you'll be able to depend on.
PICTURE THIS:
You're feeling much less stress since you've acquired your initiatives below management.
Individuals see you as dependable since you don't miss deadlines.
You're feeling proud since you're doing the vital work.
precisely what to work on subsequent.
Nothing slips by means of the cracks.
How are you going to get there?
By studying a easy Todoist workflow you'll be able to belief. And that's what you'll be taught on this self-paced video course.
ON ANY GIVEN DAY, YOU HAVE DOZENS OF THINGS TO DO…
Residence duties, work initiatives, being there to your family and friends, staying wholesome, taking good care of your funds—how do you retain observe of all of it?
Incoming emails rule your day. You not often get to your most vital duties since you're at all times chasing deadlines. And you're feeling overwhelmed.
Earlier than it, you forgot to purchase a birthday current to your mother, your boss is nagging you about that report that was due yesterday, and you continue to haven't gotten round to submitting your tax return. 🤦🏻
It doesn't must be this fashion.
IN THIS COURSE, YOU'LL LEARN HOW TO:
Get your duties from in all places else (electronic mail, web sites, Slack/Groups…) into Todoist
Combine Todoist with the apps you already use
Construction your duties with initiatives and tags ("labels")
Arrange customized views ("filters") to see simply the to-dos you want
Plan your days and weeks
Execute constant weekly opinions
Use templates to save lots of time and scale back errors
In fact, you'll be taught a lot of particular issues too, like find out how to use due dates; find out how to deal with your electronic mail (🧘🏻); and find out how to always remember a birthday once more ( 🥳).
YOUR TIME IS VALUABLE
You'll be taught precisely what you want—no extra and no much less. I've designed the course to be environment friendly, as a result of your time is effective.
‍You may piece collectively data on utilizing Todoist from random locations all around the Web, like YouTube movies, weblog posts, and the official documentation. However how lengthy would that take? And what's that point price to you?
While you observe this course, you'll be taught the whole lot you should know to arrange your life and to be productive utilizing Todoist. You'll save tons on time in comparison with figuring issues out your self.
Take into consideration what you could possibly do with the additional time. You may spend it together with your youngsters. You may spend it studying to play the guitar. Or you could possibly, , spend the time doing the precise work you wish to do!
AFTER YOU FOLLOW THE COURSE, YOU'LL:
be capable to focus,
really feel in management
know what to work on subsequent,
save time and scale back errors,
and have a system, so nothing slips by means of the cracks.
That's what studying a workflow you'll be able to belief will do for you.
More courses you might like