Nick Kolenda – Website Behavior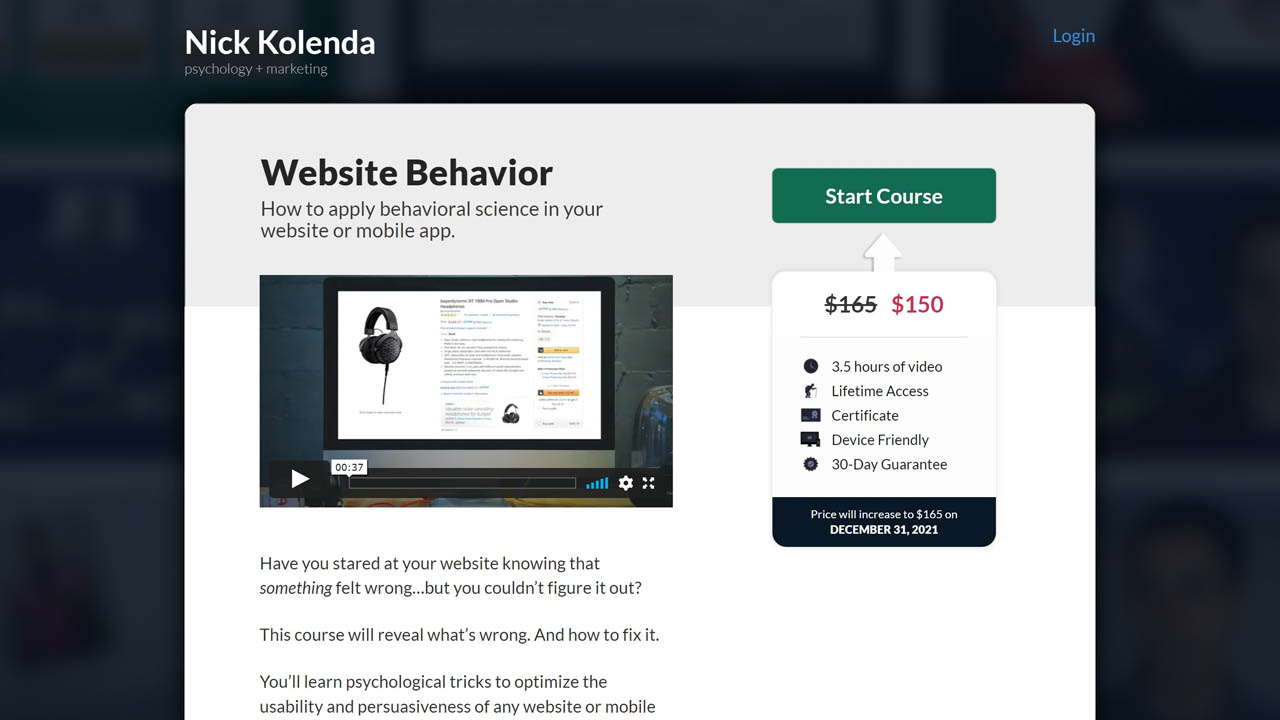 Premium
Learn online (no require download), easy download (Google Drive)

Ensure to get all files in the file list

Get free update course through your email

If you find a website cheaper than us, send it to us and we'll offer a cheaper price.

Last Updated Date: 12-11-2021
Nick Kolenda - Website Behavior (792.13 MB)
Last Updated Date: 12-11-2021
Google Drive Proof
Nick Kolenda - Website Behavior
Folders
2. Case Study — My Website
4. Case Study — Great Resumes Fast
Files
Copy of #screenhsot Nick Kolenda.png
1. Introduction
Files
1 Start Here - Nick Kolenda.pdf
2. Case Study — My Website
Files
Copy of 1. Brief Tour of Old Website - Nick Kolenda(1).mp4
Copy of 2. Colors - Nick Kolenda.mp4
Copy of 3. Logo - Nick Kolenda.mp4
Copy of 4. Menu - Nick Kolenda.mp4
Copy of 5. Layout - Nick Kolenda(1).mp4
Copy of 6. Home - Nick Kolenda.mp4
Copy of 7. Footer - Nick Kolenda.mp4
Copy of 8. Button Text - Nick Kolenda.mp4
Copy of 9. Button Visuals - Nick Kolenda.mp4
Copy of 10. Posts - Nick Kolenda.mp4
Copy of 11. About - Nick Kolenda.mp4
Copy of 12. Assortments - Nick Kolenda.mp4
Copy of 13 Recap - Nick Kolenda.mp4
3. Case Study - 5DayDeal
Files
Copy of 1. Introduction - Nick Kolenda.mp4
Copy of 2. Banner - Nick Kolenda.mp4
Copy of 3. Secondary Descriptions - Nick Kolenda.mp4
Copy of 4. Product Assortment - Nick Kolenda.mp4
Copy of 5. Persuasive Arguments - Nick Kolenda.mp4
Copy of 6. Product Summary - Nick Kolenda.mp4
Copy of 7. Checkout - Nick Kolenda.mp4
Copy of 8. Upsell - Nick Kolenda.mp4
4. Case Study — Great Resumes Fast
Files
Copy of 1. Banner - Nick Kolenda.mp4
Copy of 2. Headline - Nick Kolenda.mp4
Copy of 3. Navigation Menu - Nick Kolenda.mp4
Copy of 4. Trust Symbols - Nick Kolenda.mp4
Copy of 5. Home (Benefits) - Nick Kolenda.mp4
Copy of 6. Home (Copy) - Nick Kolenda.mp4
Copy of 7. Home (Images) - Nick Kolenda.mp4
Copy of 8. Sales Funnel - Stage 1 - Nick Kolenda.mp4
Copy of 9. Sales Funnel - Stage 2 - Nick Kolenda.mp4
Copy of 10. Pricing Tables - Nick Kolenda.mp4
Copy of 11. Pricing Design - Nick Kolenda.mp4
Copy of 12. Checkout - Nick Kolenda(1).mp4
5. Bonus
Files
Copy of 1.#screenhsot Mystery Bonus - Nick Kolenda.pdf
Copy of 1.1 Mystery Bonus.pdf
Copy of 2. Case Study - Vacant Land Syndicate - Nick Kolenda.mp4
1. Introduction

1 Start Here - Nick Kolenda.pdf

2. Case Study — My Website

Copy of 1. Brief Tour of Old Website - Nick Kolenda(1).mp4

Copy of 2. Colors - Nick Kolenda.mp4

Copy of 3. Logo - Nick Kolenda.mp4

Copy of 4. Menu - Nick Kolenda.mp4

Copy of 5. Layout - Nick Kolenda(1).mp4

Copy of 6. Home - Nick Kolenda.mp4

Copy of 7. Footer - Nick Kolenda.mp4

Copy of 8. Button Text - Nick Kolenda.mp4

Copy of 9. Button Visuals - Nick Kolenda.mp4

Copy of 10. Posts - Nick Kolenda.mp4

Copy of 11. About - Nick Kolenda.mp4

Copy of 12. Assortments - Nick Kolenda.mp4

Copy of 13 Recap - Nick Kolenda.mp4

3. Case Study - 5DayDeal

Copy of 1. Introduction - Nick Kolenda.mp4

Copy of 2. Banner - Nick Kolenda.mp4

Copy of 3. Secondary Descriptions - Nick Kolenda.mp4

Copy of 4. Product Assortment - Nick Kolenda.mp4

Copy of 5. Persuasive Arguments - Nick Kolenda.mp4

Copy of 6. Product Summary - Nick Kolenda.mp4

Copy of 7. Checkout - Nick Kolenda.mp4

Copy of 8. Upsell - Nick Kolenda.mp4

4. Case Study — Great Resumes Fast

Copy of 1. Banner - Nick Kolenda.mp4

Copy of 2. Headline - Nick Kolenda.mp4

Copy of 3. Navigation Menu - Nick Kolenda.mp4

Copy of 4. Trust Symbols - Nick Kolenda.mp4

Copy of 5. Home (Benefits) - Nick Kolenda.mp4

Copy of 6. Home (Copy) - Nick Kolenda.mp4

Copy of 7. Home (Images) - Nick Kolenda.mp4

Copy of 8. Sales Funnel - Stage 1 - Nick Kolenda.mp4

Copy of 9. Sales Funnel - Stage 2 - Nick Kolenda.mp4

Copy of 10. Pricing Tables - Nick Kolenda.mp4

Copy of 11. Pricing Design - Nick Kolenda.mp4

Copy of 12. Checkout - Nick Kolenda(1).mp4

5. Bonus

Copy of 1.#screenhsot Mystery Bonus - Nick Kolenda.pdf

Copy of 1.1 Mystery Bonus.pdf

Copy of 2. Case Study - Vacant Land Syndicate - Nick Kolenda.mp4

Copy of #screenhsot Nick Kolenda.png
Have you ever stared at your web site understanding that one thing felt unsuitable…however you couldn't determine it out?
This course will reveal what's unsuitable. And learn how to repair it.
You'll study psychological methods to optimize the usability and persuasiveness of any web site or cell app.
Subjects like…
Which colours to make use of (and why it issues)
Which layouts enhance usability
Which photographs increase conversions
Which calls-to-motion are extra persuasive
In case your web site is producing sufficient income, only one tip from this course — a single line of code — may pay for the course itself.
More courses you might like