Nick Kolenda – Sales Psychology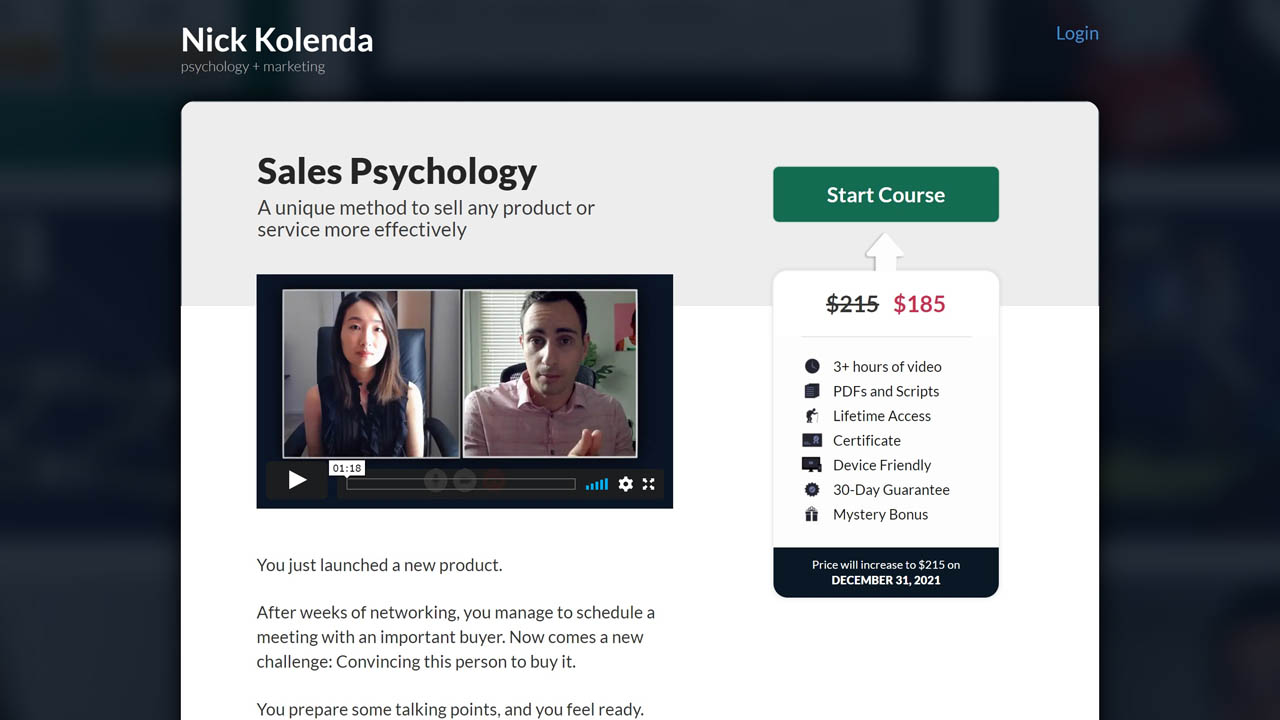 Premium
Learn online (no require download), easy download (Google Drive)

Ensure to get all files in the file list

Get free update course through your email

If you find a website cheaper than us, send it to us and we'll offer a cheaper price.

Last Updated Date: 12-11-2021
Nick Kolenda - Sales Psychology (1.3 GB)
Last Updated Date: 12-11-2021
Google Drive Proof
Nick Kolenda - Sales Psychology
Folders
Bonus Additional Insights
Files
Copy of About the Course(1).mp4
Bonus Additional Insights
Files
Copy of DARRP Framework.pdf
Copy of Executive Summary_ DARRP Framework _ Nick Kolenda(1).mp4
Copy of How Can You Disguise Your Persuasion_ _ Nick Kolenda(1).mp4
Copy of How Can You Justify an Emotional Purchase_ _ Nick Kolenda(1).mp4
Copy of How Should You Frame Numerical Quantities_ _ Nick Kolenda(1).mp4
Copy of How Should You Frame Your Benefits_ _ Nick Kolenda(1).mp4
Copy of How Should You Use Emotional Appeals_ _ Nick Kolenda(1).mp4
Copy of How Should You Use Scarcity_ _ Nick Kolenda(1).mp4
Part 1 Sales Materials
Files
Copy of Benefits _ Nick Kolenda(1).mp4
Copy of Case Study - SaaS - Part 1 _ Nick Kolenda(1).mp4
Copy of Case Study - SaaS - Part 2 _ Nick Kolenda(1).mp4
Copy of Copy _ Nick Kolenda(1).mp4
Copy of Layout _ Nick Kolenda(1).mp4
Copy of Pricing _ Nick Kolenda(1).mp4
Copy of Social Proof _ Nick Kolenda(1).mp4
Copy of Videos _ Nick Kolenda(1).mp4
Part 2 Lead Generation
Files
Copy of Case Study - Design Agency _ Nick Kolenda(1).mp4
Copy of Step 1_ Isolate a Market _ Nick Kolenda(1).mp4
Copy of Step 2_ Find Value _ Nick Kolenda(1).mp4
Copy of Step 3_ Deliver Value _ Nick Kolenda(1).mp4
Copy of Step 4_ Pitch and Close _ Nick Kolenda(1).mp4
Copy of Step 5_ Deliver and Seed _ Nick Kolenda(1).mp4
Part 3 Closing a Sale
Files
Copy of Asking Questions _ Nick Kolenda(1).mp4
Copy of Objections _ Nick Kolenda(1).mp4
Copy of Sales Calls _ Nick Kolenda(1).mp4
Copy of Sales Proposals - Part 1 _ Nick Kolenda(1).mp4
Copy of Sales Proposals - Part 2 _ Nick Kolenda(1).mp4
Bonus Additional Insights

Copy of DARRP Framework.pdf

Copy of Executive Summary_ DARRP Framework _ Nick Kolenda(1).mp4

Copy of How Can You Disguise Your Persuasion_ _ Nick Kolenda(1).mp4

Copy of How Can You Justify an Emotional Purchase_ _ Nick Kolenda(1).mp4

Copy of How Should You Frame Numerical Quantities_ _ Nick Kolenda(1).mp4

Copy of How Should You Frame Your Benefits_ _ Nick Kolenda(1).mp4

Copy of How Should You Use Emotional Appeals_ _ Nick Kolenda(1).mp4

Copy of How Should You Use Scarcity_ _ Nick Kolenda(1).mp4

Copy of References.pdf

Copy of About the Course(1).mp4

Copy of Bonus PDFs.txt

Part 1 Sales Materials

Copy of Benefits _ Nick Kolenda(1).mp4

Copy of Case Study - SaaS - Part 1 _ Nick Kolenda(1).mp4

Copy of Case Study - SaaS - Part 2 _ Nick Kolenda(1).mp4

Copy of Copy _ Nick Kolenda(1).mp4

Copy of Introduction.txt

Copy of Layout _ Nick Kolenda(1).mp4

Copy of Pricing _ Nick Kolenda(1).mp4

Copy of Social Proof _ Nick Kolenda(1).mp4

Copy of Videos _ Nick Kolenda(1).mp4

Part 2 Lead Generation

Copy of Case Study - Design Agency _ Nick Kolenda(1).mp4

Copy of Introduction.txt

Copy of Step 1_ Isolate a Market _ Nick Kolenda(1).mp4

Copy of Step 2_ Find Value _ Nick Kolenda(1).mp4

Copy of Step 3_ Deliver Value _ Nick Kolenda(1).mp4

Copy of Step 4_ Pitch and Close _ Nick Kolenda(1).mp4

Copy of Step 5_ Deliver and Seed _ Nick Kolenda(1).mp4

Part 3 Closing a Sale

Copy of Asking Questions _ Nick Kolenda(1).mp4

Copy of Introduction.txt

Copy of Objections _ Nick Kolenda(1).mp4

Copy of Sales Calls _ Nick Kolenda(1).mp4

Copy of Sales Proposals - Part 1 _ Nick Kolenda(1).mp4

Copy of Sales Proposals - Part 2 _ Nick Kolenda(1).mp4
You simply launched a brand new product.
After weeks of networking, you handle to schedule a gathering with an essential purchaser. Now comes a brand new problem: Convincing this particular person to purchase it.
You put together some speaking factors, and you are feeling prepared. However when the assembly lastly arrives…
…you are feeling awkward.
What do you say? How will you pitch your companies with out feeling sleazy? And how will you affect this particular person to purchase?
I compiled a brand new gross sales methodology to resolve these hurdles. On this course, you'll discover ways to talk your product in a manner that (a) feels straightforward and pure, and (b) influences the prospect to purchase.
Particularly, you'll be taught:
Learn how to discover related prospects
Precise phrases to say in your emails and telephone calls
Intelligent methods to beat objections
Easy tweaks to proposals that may win the sale
You'll be able to apply this data your self or share these steps along with your gross sales group, freelancers, or anybody else who communicates your product.
More courses you might like