Marty Marion – Brand Positioning Master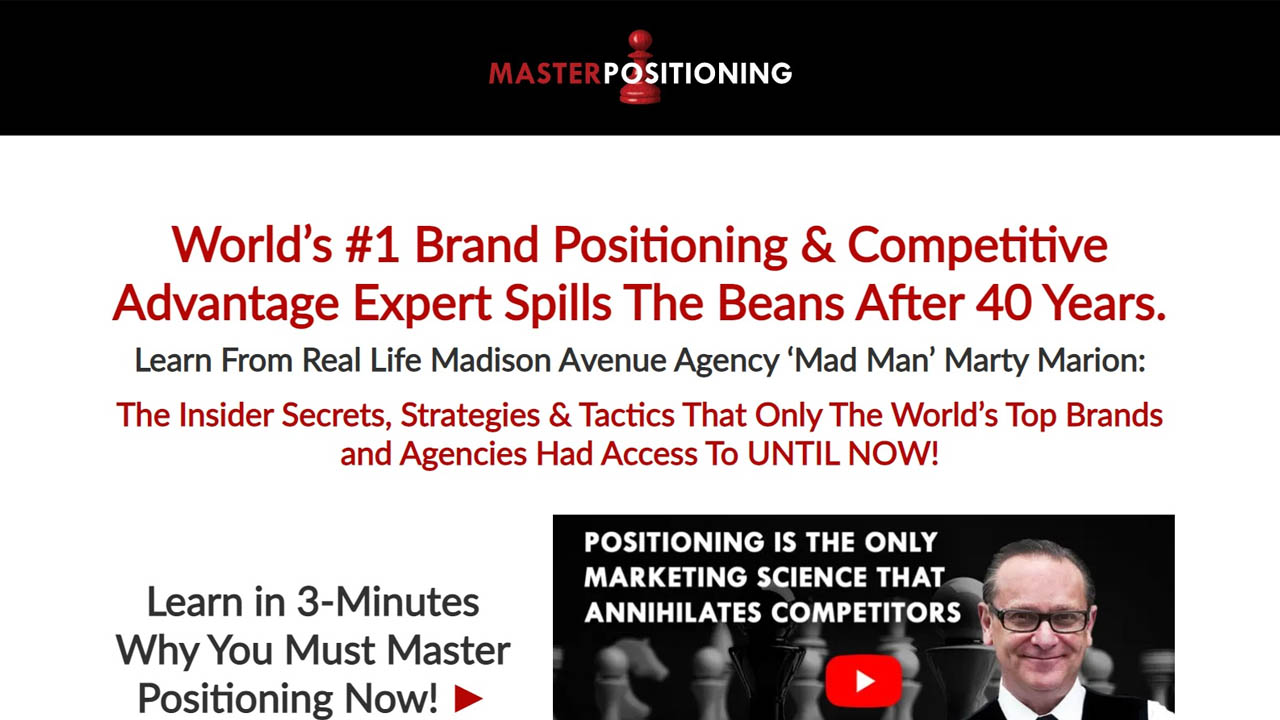 Premium
Learn online (no require download), easy download (Google Drive)

Ensure to get all files in the file list

Get free update course through your email

If you find a website cheaper than us, send it to us and we'll offer a cheaper price.

Last Updated Date: 11-19-2021
Marty Marion - Brand Positioning Master (21.87 GB)
Last Updated Date: 11-19-2021
Google Drive Proof
Marty Marion - Brand Positioning Master
Files
00-Recommended FB Groups.pdf
01-MASTER COURSE SESSION 1 - OCT-1-2020.pdf
01-MASTER COURSE Session 1 - The Core of Positioning and De-Positioning.mp4
02-MASTER COURSE SESSION 2 - OCT-8-2020.pdf
02-MASTER COURSE Session 2 - The Positioning Platform and Example.mp4
03-MASTER COURSE SESSION 3 - OCT-15-2020.pdf
03-MASTER COURSE Session 3 - The Positioning Matrix - The 4 Essential Elements and The 4 Marketing Environments Explained with Examples.mp4
04-MASTER COURSE SESSION 4 - OCT-22-2020.pdf
04-MASTER COURSE Session 4 - Category Classes - Explained in Detail with Examples.mp4
05-MASTER COURSE SESSION 5 - OCT-29-2020.pdf
05-MASTER COURSE Session 5 - A Deconstruction of Brand vs Branding, and Competitors vs Competition.mp4
06-MASTER COURSE SESSION 6 - Nov-5-2020.pdf
06-MASTER COURSE Session 6 - The Two Critical Movers - Creating Doubt and Dissatisfaction.mp4
07-MASTER COURSE SESSION 7 - Nov-12-2020.pdf
07-MASTER COURSE Session 7 - A Deep Exploration of The Brand Preference Ladder, and The Ladder of Influence.mp4
08-MASTER COURSE SESSION 8 - Nov-19-2020.pdf
08-MASTER COURSE Session 8 - The Psychology of The Consumer Decision-Making Process, with Special Guest Pro - STEVEN BLACK.mp4
09-MASTER COURSE SESSION 9 - DEC-3-2020.pdf
09-MASTER COURSE Session 9 - Brand Positioning Traps - The Brand Extension Trap, and the Tagline Trap.mp4
10-MASTER COURSE SESSION 10 - DEC-10-2020.pdf
10-MASTER COURSE Session 10 - The Consumer and Client Decision-Making Process Part 1.mp4
11-MASTER COURSE SESSION 11 - DEC-17-2020.pdf
11-MASTER COURSE Session 11 - The Consumer and Client Decision-Making Process Part 2, Plus Examples of Positioning Ad Campaigns from Marty's Vault.mp4
12-MASTER COURSE SESSION 12 - JAN-7-2021.pdf
12-MASTER COURSE Session 12 - The Impact of Micro-Moments, and The River of NO!.mp4
13-MASTER COURSE SESSION 13 - JAN-14-2021.pdf
13-MASTER COURSE Session 13 - Avoiding the Brand Positioning Mess Out There; The Positioning Venn and The Sweet Spot Venn.mp4
14-MASTER COURSE SESSION 14 - JAN-21-2021.pdf
14-MASTER COURSE Session 14 - Walkthrough of Marty's Private Positioning Development Workflow.mp4
15-MASTER COURSE SESSION 15 - JAN-28-2021.pdf
15-MASTER COURSE Session 15 - An Advanced Dissection of Segmentation vs Targeting; Re-defining Acquisition, Conversion, Stimulation, Retention.mp4
16-MASTER COURSE SESSION 16 - FEB-11-2021.pdf
16-MASTER COURSE Session 16 - An Advanced Discussion of Positioning.mp4
17-MASTER COURSE SESSION 17 - FEB-18-2021.pdf
17-MASTER COURSE Session 17 - Positioning for the Stimulation Stage, and The Preference Center Tactic.mp4
18-MASTER COURSE SESSION 18 - FEB-25-2021.pdf
18-MASTER COURSE Session 18 - Positioning for Retention & Loyalty Programs - LTV; Marty's RED LIGHT Tactic for Maximum Loyalty Stimulation.mp4
19-MASTER COURSE SESSION 19 - MAR-4-2021.pdf
19-MASTER COURSE Session 19 - NSFW ! Introduction to The Weaponization of Marketing; Subliminal Advertising Part 1.mp4
20-MASTER COURSE SESSION 20 - MAR-11-2021.pdf
20-MASTER COURSE Session 20 - Unconscious Bias and Micro Messaging - Special Guest Pro Stephen Young, Author of Best-Selling Book 'Micro Messaging'.mp4
21-MASTER COURSE SESSION 21 - MAR-18-2021.pdf
21-MASTER COURSE Session 21 - Strategies and Tactics of The Concealed Persuasion Filters and Effects, with Examples.mp4
22-MASTER COURSE SESSION 22 - MAR-25-2021.pdf
22-MASTER COURSE Session 22 - A Deep Dive into the Concepts of Lying and Deception in Marketing and Advertising, with Special Guest Stephen Young.mp4
23-MASTER COURSE SESSION 23 - APR-1-2021.pdf
23-MASTER COURSE Session 23 - An Exploration of Psychological Control Tactics, and Associative Sets in Advertising and Marketing, with Real Life Examples.mp4
24-MASTER COURSE SESSION 24 - APR-8-2021.pdf
24-MASTER COURSE Session 24 - Marty's Hand-Picked Top Strategies & Tactics for Positioning and Competitive Advantage.mp4
00-Recommended FB Groups.pdf

01-MASTER COURSE SESSION 1 - OCT-1-2020.pdf

01-MASTER COURSE Session 1 - The Core of Positioning and De-Positioning.mp4

02-MASTER COURSE SESSION 2 - OCT-8-2020.pdf

02-MASTER COURSE Session 2 - The Positioning Platform and Example.mp4

03-MASTER COURSE SESSION 3 - OCT-15-2020.pdf

03-MASTER COURSE Session 3 - The Positioning Matrix - The 4 Essential Elements and The 4 Marketing Environments Explained with Examples.mp4

04-MASTER COURSE SESSION 4 - OCT-22-2020.pdf

04-MASTER COURSE Session 4 - Category Classes - Explained in Detail with Examples.mp4

05-MASTER COURSE SESSION 5 - OCT-29-2020.pdf

05-MASTER COURSE Session 5 - A Deconstruction of Brand vs Branding, and Competitors vs Competition.mp4

06-MASTER COURSE SESSION 6 - Nov-5-2020.pdf

06-MASTER COURSE Session 6 - The Two Critical Movers - Creating Doubt and Dissatisfaction.mp4

07-MASTER COURSE SESSION 7 - Nov-12-2020.pdf

07-MASTER COURSE Session 7 - A Deep Exploration of The Brand Preference Ladder, and The Ladder of Influence.mp4

08-MASTER COURSE SESSION 8 - Nov-19-2020.pdf

08-MASTER COURSE Session 8 - The Psychology of The Consumer Decision-Making Process, with Special Guest Pro - STEVEN BLACK.mp4

09-MASTER COURSE SESSION 9 - DEC-3-2020.pdf

09-MASTER COURSE Session 9 - Brand Positioning Traps - The Brand Extension Trap, and the Tagline Trap.mp4

10-MASTER COURSE SESSION 10 - DEC-10-2020.pdf

10-MASTER COURSE Session 10 - The Consumer and Client Decision-Making Process Part 1.mp4

11-MASTER COURSE SESSION 11 - DEC-17-2020.pdf

11-MASTER COURSE Session 11 - The Consumer and Client Decision-Making Process Part 2, Plus Examples of Positioning Ad Campaigns from Marty's Vault.mp4

12-MASTER COURSE SESSION 12 - JAN-7-2021.pdf

12-MASTER COURSE Session 12 - The Impact of Micro-Moments, and The River of NO!.mp4

13-MASTER COURSE SESSION 13 - JAN-14-2021.pdf

13-MASTER COURSE Session 13 - Avoiding the Brand Positioning Mess Out There; The Positioning Venn and The Sweet Spot Venn.mp4

14-MASTER COURSE SESSION 14 - JAN-21-2021.pdf

14-MASTER COURSE Session 14 - Walkthrough of Marty's Private Positioning Development Workflow.mp4

15-MASTER COURSE SESSION 15 - JAN-28-2021.pdf

15-MASTER COURSE Session 15 - An Advanced Dissection of Segmentation vs Targeting; Re-defining Acquisition, Conversion, Stimulation, Retention.mp4

16-MASTER COURSE SESSION 16 - FEB-11-2021.pdf

16-MASTER COURSE Session 16 - An Advanced Discussion of Positioning.mp4

17-MASTER COURSE SESSION 17 - FEB-18-2021.pdf

17-MASTER COURSE Session 17 - Positioning for the Stimulation Stage, and The Preference Center Tactic.mp4

18-MASTER COURSE SESSION 18 - FEB-25-2021.pdf

18-MASTER COURSE Session 18 - Positioning for Retention & Loyalty Programs - LTV; Marty's RED LIGHT Tactic for Maximum Loyalty Stimulation.mp4

19-MASTER COURSE SESSION 19 - MAR-4-2021.pdf

19-MASTER COURSE Session 19 - NSFW ! Introduction to The Weaponization of Marketing; Subliminal Advertising Part 1.mp4

20-MASTER COURSE SESSION 20 - MAR-11-2021.pdf

20-MASTER COURSE Session 20 - Unconscious Bias and Micro Messaging - Special Guest Pro Stephen Young, Author of Best-Selling Book 'Micro Messaging'.mp4

21-MASTER COURSE SESSION 21 - MAR-18-2021.pdf

21-MASTER COURSE Session 21 - Strategies and Tactics of The Concealed Persuasion Filters and Effects, with Examples.mp4

22-MASTER COURSE SESSION 22 - MAR-25-2021.pdf

22-MASTER COURSE Session 22 - A Deep Dive into the Concepts of Lying and Deception in Marketing and Advertising, with Special Guest Stephen Young.mp4

23-MASTER COURSE SESSION 23 - APR-1-2021.pdf

23-MASTER COURSE Session 23 - An Exploration of Psychological Control Tactics, and Associative Sets in Advertising and Marketing, with Real Life Examples.mp4

24-MASTER COURSE SESSION 24 - APR-8-2021.pdf

24-MASTER COURSE Session 24 - Marty's Hand-Picked Top Strategies & Tactics for Positioning and Competitive Advantage.mp4
This is not a canned pre-recorded program. It's 36 hours of LIVE intensive coaching (yes, every session is recorded for unlimited replays), with Q&A sessions and immediately actionable steps in every lesson. I assure you it's worth many times what it costs. Everyone who has ever taken one of my courses or private trainings has profited. And if you do the work, you will too.
That's why I GUARANTEE IT, with an unprecedented 100% money-back guarantee.
This is a simple, no-nonsense guarantee that takes ALL the risk out of enrolling in this program.
Here's how it works:
This will be a very strictly limited group to ensure maximum attention to each participant – AND EVERY MEMBER GETS A PRIVATE LIVE CONSULTATION CALL WITH ME TO HELP PERFECT YOUR OWN POSITIONING PLATFORM – FOR YOUR OWN BRAND, AGENCY OR CONSULTANCY!
Don't miss this opportunity to get the most powerful coaching on brand positioning and competitive advantage ever offered.
In 24 weekly 90-minute intensive Live Positioning Coaching Calls I will give you immediately actionable steps for your agency or brand, and for your clients. I will both teach and train you to understand and to be able to implement the critical aspects of positioning and de-positioning for competitive advantage. These are no-fluff intensive coaching sessions where we'll get down to the real work.
More courses you might like