Ivan Pashov – The Solar Boss Academy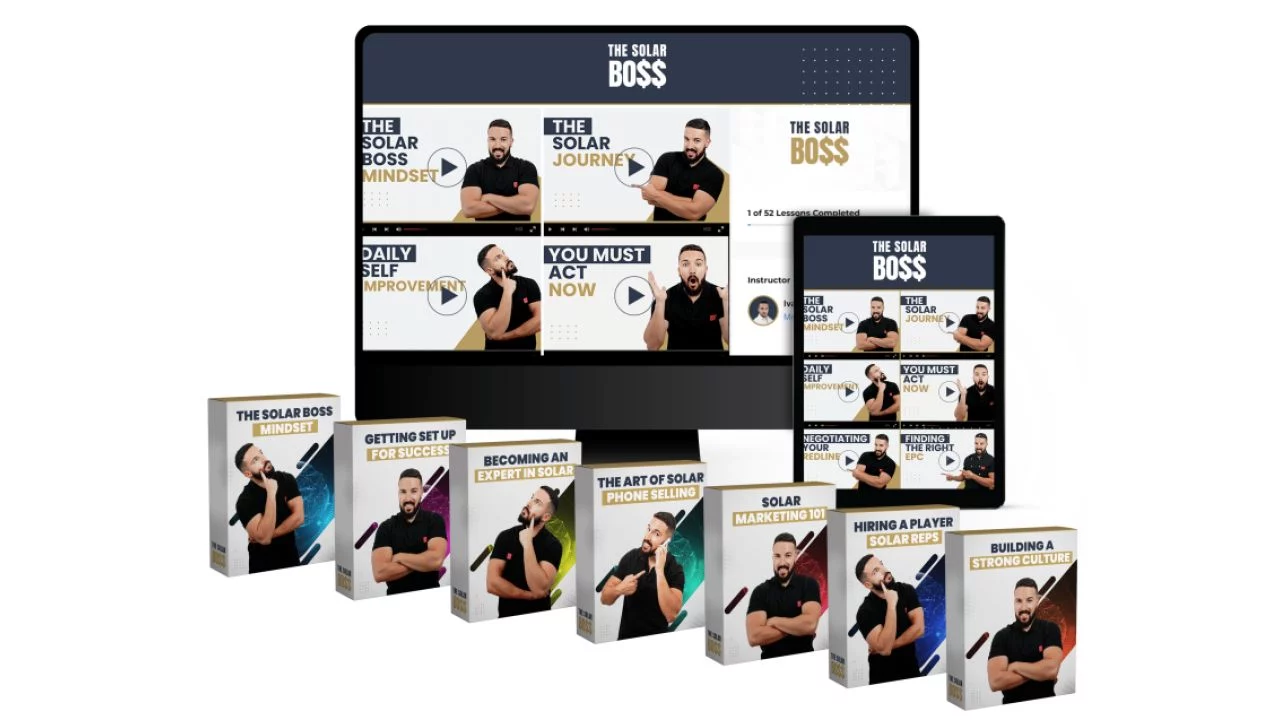 Premium
Learn online (no require download), easy download (Google Drive)

Ensure to get all files in the file list

Get free update course through your email

If you find a website cheaper than us, send it to us and we'll offer a cheaper price.

Last Updated Date: 07-25-2023
Ivan Pashov – The Solar Boss Academy (11.9 GB)
Last Updated Date: 07-25-2023
Google Drive Proof
Ivan Pashov – The Solar Boss Academy
Owner
Last modified
File size
01-Module 01 - The Solar Boss Mindset
02-Module 02 - Getting Set up for Success
03-Module 03 - Becoming an Expert in Solar
04-Module 04 - Mastering the Art of Solar Phone Selling
05-Module 05 - Solar Marketing 101
06-Module 06 - Hiring a Player Solar Reps
07-Module 07 - Building a Strong Culture
00a-Welcome to the Course.mp4
me
Jul 25, 2023 me
58.1 MB
00b-Getting Started in Solar.mp4
me
Jul 25, 2023 me
106 MB
Ivan Pashov – The Solar Boss Academy
01-Module 01 - The Solar Boss Mindset
01-Module 1 Introduction.mp4
me
Jul 25, 2023 me
22.3 MB
02-Understanding the Journey.mp4
me
Jul 25, 2023 me
157 MB
03-The Importance of Daily Self-Improvement.mp4
me
Jul 25, 2023 me
121.2 MB
04-Short Window of Opportunity.mp4
me
Jul 25, 2023 me
69.3 MB
05-Roadmap to Success.mp4
me
Jul 25, 2023 me
88.7 MB
Ivan Pashov – The Solar Boss Academy
02-Module 02 - Getting Set up for Success
01-Module 2 Introduction.mp4
me
Jul 25, 2023 me
28.7 MB
02-Finding the Right EPC.mp4
me
Jul 25, 2023 me
316 MB
03-Negotiating Your Redline.mp4
me
Jul 25, 2023 me
204.8 MB
Ivan Pashov – The Solar Boss Academy
03-Module 03 - Becoming an Expert in Solar
01-Module 3 Introduction.mp4
me
Jul 25, 2023 me
36.9 MB
02-EPC's, Solar Sales Org, 10.99 rep.mp4
me
Jul 25, 2023 me
74.4 MB
03-Different ways of selling Solar.mp4
me
Jul 25, 2023 me
115.8 MB
04-Phone Sales for the Win.mp4
me
Jul 25, 2023 me
91.4 MB
me
Jul 25, 2023 me
65.4 MB
Ivan Pashov – The Solar Boss Academy
04-Module 04 - Mastering the Art of Solar Phone Selling
01-Module 4 Introduction.mp4
02-Becoming a Phone Sales Ninja.mp4
me
Jul 25, 2023 me
93.3 MB
03-Why Selling High is the Only way to Sell Solar.mp4
me
Jul 25, 2023 me
51.7 MB
04-Getting the Bill the Right Way.mp4
me
Jul 25, 2023 me
64.5 MB
05-How to Run Credit Like a Pro.mp4
me
Jul 25, 2023 me
73.8 MB
06-Objection Handling.mp4
me
Jul 25, 2023 me
63.1 MB
07-Dirty Solar Secrets.mp4
me
Jul 25, 2023 me
138 MB
08-The Money is in the Follow up.mp4
me
Jul 25, 2023 me
75.1 MB
Ivan Pashov – The Solar Boss Academy
05-Module 05 - Solar Marketing 101
Owner
Last modified
File size
05-How To Run Facebook Ads To Get Leads
07-GoHighLevel Automation
08-Marketing Module Recap
01-Module 5 Introduction.mp4
me
Jul 25, 2023 me
63.4 MB
02-Solar Marketing Overview.mp4
me
Jul 25, 2023 me
223.5 MB
03-Solar Ads Research.mp4
me
Jul 25, 2023 me
238.6 MB
Ivan Pashov – The Solar Boss Academy
05-Module 05 - Solar Marketing 101
04-Building a Funnel
me
Jul 25, 2023 me
10.3 MB
02-How to Build a Landing Page.mp4
me
Jul 25, 2023 me
237.3 MB
03-How to Build a Thank You Page and a Privacy Policy Page.mp4
me
Jul 25, 2023 me
169.6 MB
04-How to Create a Survey on GoHighLevel.mp4
me
Jul 25, 2023 me
92.1 MB
05-Building a Survey Using involve.me Plus Zapier Integration.mp4
me
Jul 25, 2023 me
209.6 MB
06-How to Copy Competitors Funnels.mp4
me
Jul 25, 2023 me
78.7 MB
07-Domain Verification for GoHighLevel.ts
Ivan Pashov – The Solar Boss Academy
05-Module 05 - Solar Marketing 101
05-How To Run Facebook Ads To Get Leads
01-Creating Facebook Business Manager and Pixel.ts
me
Jul 25, 2023 me
9.2 MB
02-Facebook Pixel Set up.mp4
me
Jul 25, 2023 me
50.1 MB
03-Creating a Facebook Business Page.ts
me
Jul 25, 2023 me
6.1 MB
04-Setting up a Campaign.mp4
me
Jul 25, 2023 me
103 MB
05-Monitoring and optimizing campaigns (KPIs).mp4
me
Jul 25, 2023 me
34.7 MB
Ivan Pashov – The Solar Boss Academy
05-Module 05 - Solar Marketing 101
06-DFY Solar CRM
01-GoHighLevel Snapshot Set up.mp4
me
Jul 25, 2023 me
117.5 MB
02-Twillio Account Set up and How to Integrate it to GHL.ts
03-GoHighLevel Pipeline KPI's Monitoring.mp4
me
Jul 25, 2023 me
52.8 MB
Ivan Pashov – The Solar Boss Academy
05-Module 05 - Solar Marketing 101
07-GoHighLevel Automation
me
Jul 25, 2023 me
12.3 MB
Ivan Pashov – The Solar Boss Academy
05-Module 05 - Solar Marketing 101
08-Marketing Module Recap
me
Jul 25, 2023 me
64.4 MB
Ivan Pashov – The Solar Boss Academy
06-Module 06 - Hiring a Player Solar Reps
01-Hiring Sales Reps Overview.mp4
me
Jul 25, 2023 me
148.3 MB
02-How to Attract the Right People on Your Team.mp4
me
Jul 25, 2023 me
112.6 MB
03-How to Hire Reps Using Indeed.mp4
me
Jul 25, 2023 me
32.7 MB
04-How to Hire Reps Using Paid Ads.mp4
me
Jul 25, 2023 me
43.3 MB
05-Interview Process Breakdown.mp4
me
Jul 25, 2023 me
218.7 MB
Ivan Pashov – The Solar Boss Academy
07-Module 07 - Building a Strong Culture
01-Module 7 Introduction.mp4
me
Jul 25, 2023 me
44.1 MB
02-Overview of the Process.mp4
me
Jul 25, 2023 me
208.4 MB
03-Why Daily Sales Traning is Vital.mp4
me
Jul 25, 2023 me
157.6 MB
me
Jul 25, 2023 me
91.9 MB
05-Recording Sales Calls.mp4
me
Jul 25, 2023 me
102.8 MB
Ivan Pashov – The Solar Boss Academy
08-All Course Bonuses
01-GHL Registration + To Solar Boss Snapshot Access.pdf
me
Jul 25, 2023 me
28.3 KB
02-Residential Solar Script.pdf
me
Jul 25, 2023 me
57.5 KB
03-Solar Appointment Script.pdf
me
Jul 25, 2023 me
79.2 KB
04-Call Recording 1 - Solar Pitch.wav
me
Jul 25, 2023 me
135 MB
05-Call Recording 2 - Solar Pitch.wav
me
Jul 25, 2023 me
157.3 MB
06-Call Recording 3 - Solar Pitch.wav
me
Jul 25, 2023 me
207.5 MB
07a-Call Recording 4 - Solar Pitch.wav
me
Jul 25, 2023 me
107.2 MB
07b-Call Recording 4 - Solar Pitch 2.wav
me
Jul 25, 2023 me
190.8 MB
08a-Call Recording 5 - Document Signing 1.wav
08b-Call Recording 5 - Document Signing 2.wav
me
Jul 25, 2023 me
270.2 MB
08c-Call Recording 5 - Solar Pitch.wav
me
Jul 25, 2023 me
202.8 MB
08d-Call Recording 5 - Solar Pitch 2.wav
me
Jul 25, 2023 me
127.7 MB
09a-Call Recording 6 - Solar Pitch.wav
me
Jul 25, 2023 me
169.9 MB
09b-Call Recording 6 - Solar Pitch Part 2.wav
me
Jul 25, 2023 me
126.1 MB
10-Call Recording 7 - Solar Pitch.wav
me
Jul 25, 2023 me
129.7 MB
11a-Call Recording 8 - Solar Pitch.wav
me
Jul 25, 2023 me
133.9 MB
11b-Call Recording 8 - Solar Pitch Part 2.wav
me
Jul 25, 2023 me
129.6 MB
12-Call Recording 9 - Solar Ptich.wav
me
Jul 25, 2023 me
319 MB
13-Call Recording 10 - Loan Documents Signing.wav
me
Jul 25, 2023 me
611.9 MB
14a-Call Recording 11 - Solar Close.wav
me
Jul 25, 2023 me
690 MB
14b-Call Recording 11 - Solar Pitch.wav
me
Jul 25, 2023 me
225.7 MB
15-Call Recording 12 - Solar Pitch.wav
me
Jul 25, 2023 me
335.3 MB
16-Call Recording 13 - Solar Pitch.wav
me
Jul 25, 2023 me
279.4 MB
17-Call Recording 14 - Solar Pitch.wav
me
Jul 25, 2023 me
129.7 MB
18-Call Recording 15 - Solar Close.wav
me
Jul 25, 2023 me
287.7 MB
19-Call Recording 16 - Solar Close.wav
me
Jul 25, 2023 me
393.7 MB
20-Call Recording 17 - Solar Close.wav
me
Jul 25, 2023 me
325.4 MB
Ivan Pashov – The Solar Boss Academy
09-Weekly Group Meetings
01-Weekly Group Meeting 1.mp4
me
Jul 25, 2023 me
286.5 MB
02-Weekly Group Meeting 2.mp4
me
Jul 25, 2023 me
445.8 MB
03-Weekly Group Meeting 3.mp4
me
Jul 25, 2023 me
133 MB
04-Weekly Group Meeting 4.mp4
me
Jul 25, 2023 me
315.2 MB
05-Weekly Group Meeting 5.mp4
me
Jul 25, 2023 me
198.8 MB
Ivan Pashov – The Solar Boss Academy Download Module 1
Let's return to fundamentals and unlock the basics of operating a distant photo voltaic enterprise. We lay the groundwork in your future success as a Solar Boss.
We deal with all misconceptions in regards to the photo voltaic business and I share my private expertise that I've acquired over the past 3 years whereas having labored with a whole lot of photo voltaic companies and particular person reps.
Module 2
Learn to arrange your new distant photo voltaic enterprise for achievement by discovering the correct photo voltaic installers (EPCs) and negotiating your "Redline" for optimum profitability.
Module 3
Changing into a real knowledgeable in photo voltaic doesn't must take lengthy. With an astonishing array of details about the business, you'll be capable to be taught the whole lot there may be to know in a matter of some brief days that will in any other case take you years to be taught.
Module 4
I name this the Million Greenback talent for a motive… Promoting-solar-over-the-phone is without doubt one of the most vital expertise you'll be taught in your lifetime. Change into actually location unbiased using the ability of the phone. This lets you promote in low-hanging fruit states and sustaining unimaginable revenue margins.
Module 5
Be taught all of the methods to generate your personal photo voltaic leads on demand. We go away NO stone unturned relating to constructing high-converting photo voltaic funnels and operating advert campaigns that produce high quality leads on the most cost-effective doable value.
Module 6
Constructing a crew of "A" gamers is what each enterprise proprietor goals about and on this module you get to be taught the precise strategies to hunt, interview and rent the correct folks to affix your new rising distant photo voltaic enterprise.
Module 7
Learn to construct a robust tradition in order that the individuals who be a part of your crew not solely wouldn't wish to go away but additionally benefit from the means of working in direction of reaching your final imaginative and prescient for the enterprise.
Go Excessive Stage CRM setup is obtainable as a part of The Solar Boss program! This highly effective personalized for Solar CRM provides you a number of software program instruments in a single together with:
– Gross sales CRM – E-mail campaigns – Textual content message campaigns – Constructing Funnels and extra…
This bonus contains Totally automated and excessive changing emails and SMS sequences:
– Nurturing campaigns with excellent engagement –  Appointment reminders campaigns and extra,,,
Entry to Scripts that may make your Appointment Setting Service extra environment friendly.
Achieve entry to Solar Gross sales Scripts for setting and shutting appointments over the cellphone that convert prospects into CLOSED DEALS!
Prime sellers know that nailing the pitch is vital to closing extra offers. And what higher approach to enhance your pitch than by listening to name recordings of efficiently closed offers over the cellphone. Be taught the key tips to create urgency in a sale and the way in which to deal with all potential objections earlier than they even come up.
More courses you might like