Digital Hammers – Local Business Marketing – Local SEO Mastery (2021 Edition)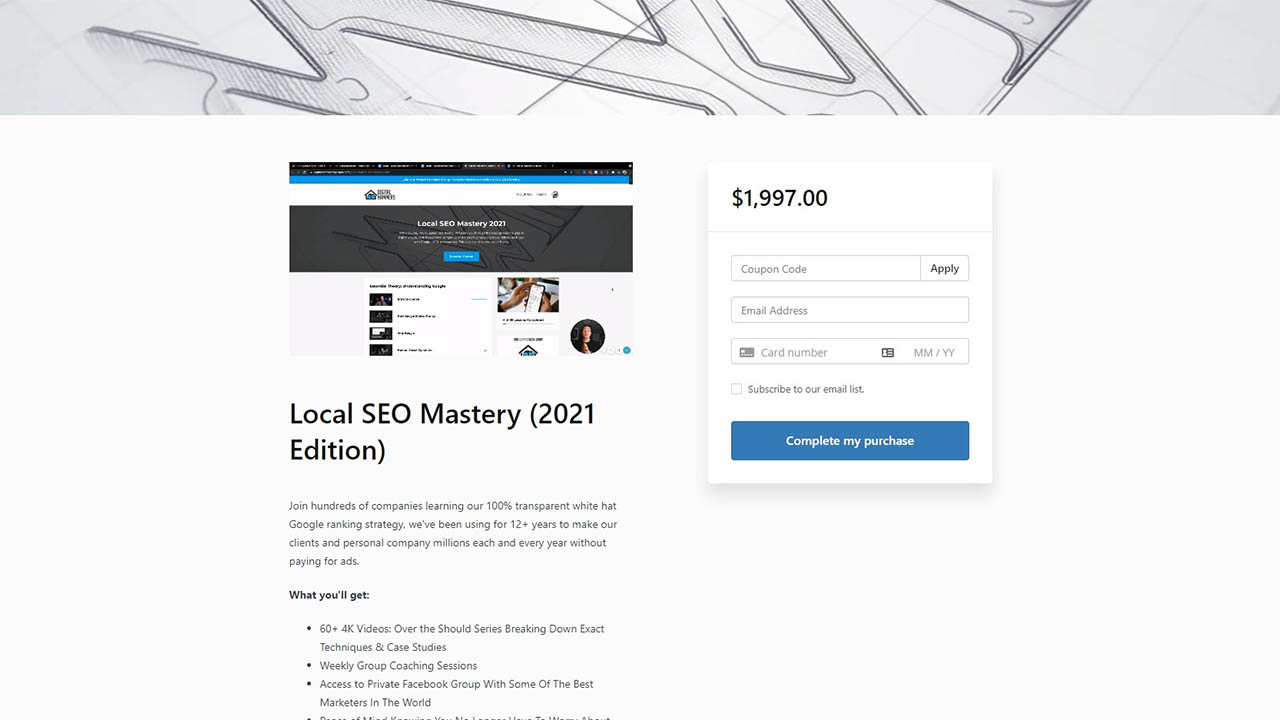 Premium
Learn online (no require download), easy download (Google Drive)

Ensure to get all files in the file list

Get free update course through your email

If you find a website cheaper than us, send it to us and we'll offer a cheaper price.

Last Updated Date: 03-30-2022

Course Size: 8.04 GB
Digital Hammers – Local Business Marketing – Local SEO Mastery (2021 Edition) (8.04 GB)
Last Updated Date: 03-30-2022
Google Drive Proof
Digital Hammers – Local Business Marketing – Local SEO Mastery (2021 Edition)
Files
Backlinks_101_-_RD_types_of_Links.mp4
Digital_Hammers_Local_Business_Marketing_1_.mp4
Filling_Out_Your_GMB_Profile.mp4
Gaining_Acces_to_Your_GMB.mp4
Geo-Tagging_Images_Uploading.mp4
How_Google_Makes_Money.mp4
How_Many_Links_to_Build.mp4
Human_Social_Dynamics.mp4
Internal_Linking_Outbound_Links.mp4
Intro_Google_My_Business.mp4
Intro_to_the_4_Pillars.mp4
KWR_-_Keywords_Everywhere_Ahrefs.mp4
KWR_Ahrefs_Competitive_Analysis_RD.mp4
KWR_Intent_The_Spreadsheet_Keywords_Everywhere.mp4
Keyword_Cannabilization.mp4
Multiple_Cities_Multiple_Services.mp4
RSOS_-_Keyword_in_Title_of_Article_Placements.mp4
Relevant_Content_Domains.mp4
Site_Structure_Examples.mp4
Site_Structure_Theory_-_Like_A_Book.mp4
Weight_to_what_is_hard_to_manipulate.mp4
Why_GMB_is_so_Important.mp4
Why_No_Fake_Addresses.mp4
Wordpress_-_Dominate_Local_CMS.mp4
eMD_Vs_PMD_-_Namecheap.mp4
Alt_Text.mp4

Anchor_Text.mp4

Backlink_Conclusion.mp4

Backlinks_101_-_RD_types_of_Links.mp4

Check_Index.mp4

City_Landing_Pages.mp4

Content.mp4

Conversion_Basics.mp4

Creating_a_GMB.mp4

Digital_Hammers_Local_Business_Marketing_1_.mp4

Example_Links.mp4

Filling_Out_Your_GMB_Profile.mp4

Future_of_SEO.mp4

GMB_Attributes.mp4

GMB_Description.mp4

GMB_Embed.mp4

GMB_Images.mp4

Gaining_Acces_to_Your_GMB.mp4

Geo-Tagging_Images_Uploading.mp4

Good_Not_Bad.mp4

Grammarly_Plagarism.mp4

How_Google_Makes_Money.mp4

How_Many_Links_to_Build.mp4

Human_Social_Dynamics.mp4

Internal_Linking_Outbound_Links.mp4

Intro_Google_My_Business.mp4

Intro_to_Backlinks.mp4

Intro_to_Content.mp4

Intro_to_Course.mp4

Intro_to_On_Page.mp4

Intro_to_the_4_Pillars.mp4

KWR_-_Keywords_Everywhere_Ahrefs.mp4

KWR_Ahrefs.mp4

KWR_Ahrefs_Competitive_Analysis_RD.mp4

KWR_Intent_The_Spreadsheet_Keywords_Everywhere.mp4

Keyword_Cannabilization.mp4

Link_Spreadsheet.mp4

Multiple_Cities_Multiple_Services.mp4

No_Fake_Addresses.mp4

On_Page_Basics.mp4

People_Also_Ask.mp4

RSOS_-_Keyword_in_Title_of_Article_Placements.mp4

Relevant_Content_Domains.mp4

SPAM_Links.mp4

Schema.mp4

Screaming_Frog.mp4

Site_Speed.mp4

Site_Structure_Examples.mp4

Site_Structure_Theory_-_Like_A_Book.mp4

Weight_to_what_is_hard_to_manipulate.mp4

Why_GMB_is_so_Important.mp4

Why_Google.mp4

Why_No_Fake_Addresses.mp4

Wordpress_-_Dominate_Local_CMS.mp4

Yoast.mp4

eMD_Vs_PMD_-_Namecheap.mp4
Local SEO Mastery (2021 Version)
Be part of a whole lot of corporations studying our 100% clear white hat Google rating technique, we have been utilizing for 12+ years to make our shoppers and private firm hundreds of thousands every 12 months with out paying for advertisements.
What you may get:
60+ 4K Movies: Over the Ought to Sequence Breaking Down Actual Methods & Case Research
Weekly Group Teaching Classes
Entry to Personal Fb Group With Some Of The Finest Entrepreneurs In The World
Peace of Thoughts Realizing You No Longer Have To Fear About Google Updates.
*SEO takes time and persistence however for those who observe our guides and persist with the core of what Google desires you will note nice outcomes. Motion is the whole lot.
What Individuals Are Saying:
I am loving the course up to now! The hyperlink assets and data nuggets are clutch.
Daniel B (SEO Professional)
Digital Hammers lastly put collectively the items that it may take for me to rank #1 within the maps and eventually develop my enterprise.
Austin Pena (Marketer)
Man! Nice data already. I am taking motion on this course. I actually admire it! So many gross sales nuggets as properly.
Tyler Poteet (Company Proprietor)
More courses you might like