Diedre Downing – Data Storytelling for Business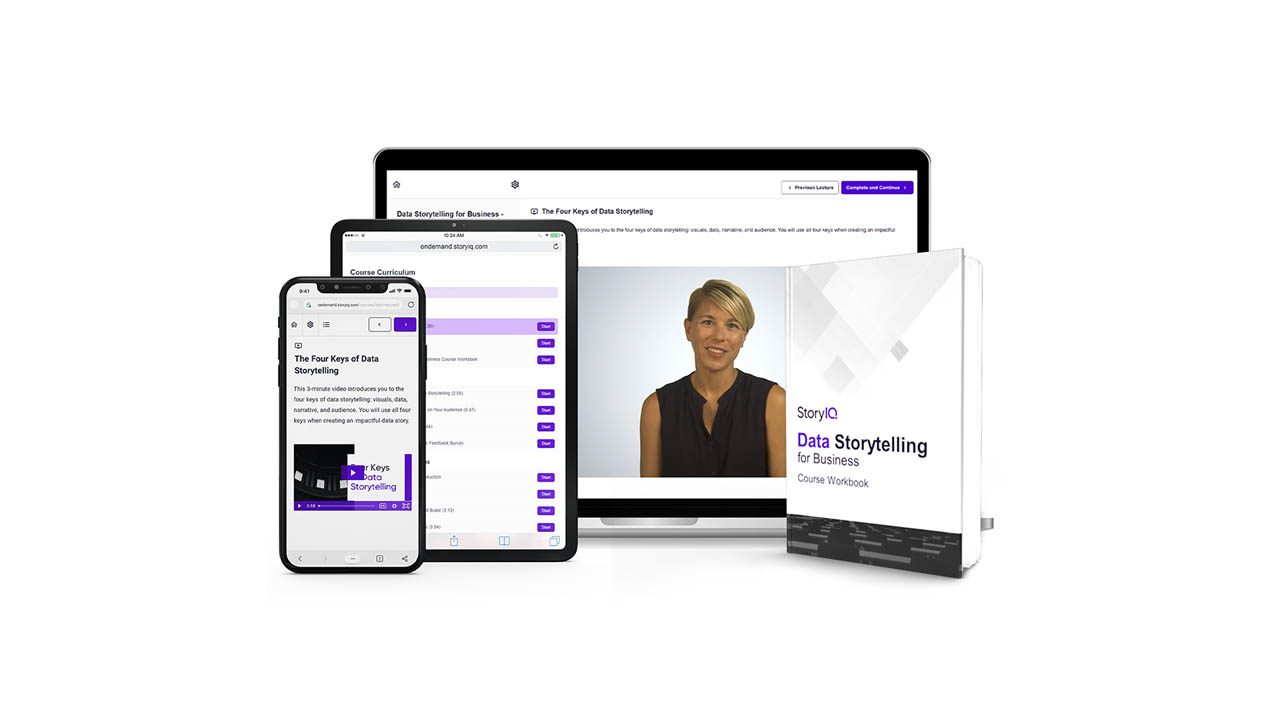 Premium
Learn online (no require download), easy download (Google Drive)

Ensure to get all files in the file list

Get free update course through your email

If you find a website cheaper than us, send it to us and we'll offer a cheaper price.

Last Updated Date: 10-09-2022
Diedre Downing – Data Storytelling for Business (750.6 MB)
Last Updated Date: 10-09-2022
Google Drive Proof
Diedre Downing – Data Storytelling for Business
Owner
Last modified
File size
1 Visualization Design Principles
2 Data Visualization Best Practices Part I
3 Data Visualization Best Practices Part II
#4017 - 'StoryIQ' - datastorytelling.com.png
me
Oct 09, 2022 me
211.7 KB
#4018 - 'Course Introduction I StoryIQ' - datastorytelling.com.pdf
me
Oct 09, 2022 me
376.5 KB
#4019 - 'Data Storytelling for Business Course Workbook I StoryIQ' - datastorytelling.com.pdf
me
Oct 09, 2022 me
102 KB
#4020 - 'About your Instructor I StoryIQ' - datastorytelling.com.pdf
me
Oct 09, 2022 me
184.2 KB
#4021 - 'Design Principles Introduction I StoryIQ' - datastorytelling.com.pdf
me
Oct 09, 2022 me
69.7 KB
#4022 - 'Data Visualization Design Introduction I StoryIQ' - datastorytelling.com.pdf
#4023 - 'Step 1_ Understand Your Audience I StoryIQ' - datastorytelling.com.pdf
me
Oct 09, 2022 me
380.3 KB
#4024 - 'Step 2_ Data and Visualizations I StoryIQ' - datastorytelling.com.pdf
me
Oct 09, 2022 me
205.6 KB
#4025 - 'Narrative Introduction I StoryIQ' - datastorytelling.com.pdf
me
Oct 09, 2022 me
73.9 KB
#4026 - 'Step 3_ Preparing a Data Story I StoryIQ' - datastorytelling.com.pdf
me
Oct 09, 2022 me
202.2 KB
1-Course Introduction - StoryIQ.ts
me
Oct 09, 2022 me
10.9 MB
2-The Four Keys of Data Storytelling - StoryIQ.ts
me
Oct 09, 2022 me
23.3 MB
3-Defining and Focusing on Your Audience - StoryIQ.ts
me
Oct 09, 2022 me
58.5 MB
Data Storytelling for Business Online Course Workbook.pdf
me
Oct 09, 2022 me
4.2 MB
Diedre Downing – Data Storytelling for Business
1 Visualization Design Principles
1-Chart Junk - StoryIQ.mp4
me
Oct 09, 2022 me
46.9 MB
2-The Cleveland & McGill Scale - StoryIQ.mp4
me
Oct 09, 2022 me
45.1 MB
3-Pre-Attentive Attributes - StoryIQ.mp4
me
Oct 09, 2022 me
33.5 MB
4-Gestalt Laws - StoryIQ.ts
5-Design Principles in Action - StoryIQ.ts
me
Oct 09, 2022 me
20.5 MB
6-Design Principles Conclusion - StoryIQ.ts
me
Oct 09, 2022 me
5.8 MB
Diedre Downing – Data Storytelling for Business
2 Data Visualization Best Practices Part I
1-Impact Metrics - StoryIQ.ts
me
Oct 09, 2022 me
17.5 MB
me
Oct 09, 2022 me
15.7 MB
3-Bar charts - StoryIQ.ts
me
Oct 09, 2022 me
26.8 MB
4-Pie Charts - StoryIQ.ts
me
Oct 09, 2022 me
13.5 MB
5-Line Charts - StoryIQ.ts
me
Oct 09, 2022 me
14.6 MB
Practice_problems_data.xlsx
me
Oct 09, 2022 me
46.9 KB
Diedre Downing – Data Storytelling for Business
3 Data Visualization Best Practices Part II
1-Scatter plots - StoryIQ.ts
me
Oct 09, 2022 me
16.1 MB
2-Small Multiples - StoryIQ.ts
me
Oct 09, 2022 me
13.8 MB
3-Use of Color - StoryIQ.ts
me
Oct 09, 2022 me
16.5 MB
Diedre Downing – Data Storytelling for Business
4 Workshop Part I
2-Step 2- Data and Visualizations - StoryIQ.ts
me
Oct 09, 2022 me
20.2 MB
me
Oct 09, 2022 me
102.8 KB
Step 1- Understand Your Audience - StoryIQ.ts
Diedre Downing – Data Storytelling for Business
5 Narrative
1-Storytelling Titles - StoryIQ.ts
me
Oct 09, 2022 me
11.4 MB
2-Vertical and Horizontal Flow - StoryIQ.ts
me
Oct 09, 2022 me
22.9 MB
3-Presentation Medium - StoryIQ.ts
me
Oct 09, 2022 me
38.1 MB
4-Presentation Assembly - StoryIQ.ts
me
Oct 09, 2022 me
16.5 MB
5-Presentation Delivery - StoryIQ.ts
6-Course Conclusion - StoryIQ.ts
me
Oct 09, 2022 me
8.1 MB
Diedre Downing – Data Storytelling for Business
6 Workshop Part II
Step 3- Preparing a Data Story - StoryIQ.ts
me
Oct 09, 2022 me
7.9 MB
Diedre Downing – Data Storytelling for Business
7 How To Videos
1-Line Chart Enhancements - StoryIQ.ts
me
Oct 09, 2022 me
28.2 MB
2-+Creating a Bullet Chart - StoryIQ.ts
me
Oct 09, 2022 me
22.1 MB
3-Creating an Impact Metric - StoryIQ.ts
me
Oct 09, 2022 me
25.7 MB
4-Creating a Slopegraph - StoryIQ.ts
me
Oct 09, 2022 me
16.3 MB
5-Enhancing Bar Charts - StoryIQ.ts
me
Oct 09, 2022 me
12.2 MB
6-Creating a Scatter Plot - StoryIQ.ts
me
Oct 09, 2022 me
20.4 MB
7-Creating a Staged Line Chart - StoryIQ.ts
me
Oct 09, 2022 me
14.2 MB
Diedre Downing – Data Storytelling for Business
8 Example Solutions
1-Examples- Chart Enhancement Practice - StoryIQ.ts
me
Oct 09, 2022 me
11.8 MB
2-Sample Yellevate Solution - StoryIQ.ts
me
Oct 09, 2022 me
11.5 MB
​StoryIQ Self-Paced On-line Data Storytelling for Business Be taught to create compelling knowledge tales at your personal pace with this fascinating video-on-demand course. Brochure Download We offer coaching to the world's most prestigious firms. In regards to the course Data storytelling is a technique of presenting knowledge to a particular viewers in a approach that's personalised to their wants.
The best knowledge tales are informative, partaking, and encourage the viewers to behave. Our Data Storytelling for Business course provides college students a stable basis within the fundamentals of knowledge storytelling. Learners will purchase the talents to create highly effective knowledge visualizations with interesting tales by the top of the course. Focus the viewers's deal with a very powerful points. Manage your slideshows. enhancedata visualizations to assist inform a narrative What can our programs do for you? This course utterly reworked the best way I considered and ship displays.
It carried with it a wealth of design and storytelling data. It was three days of partaking and thrilling studying that I'll apply in my day by day work with out fail. I strongly advise it to anybody who has to offer displays to many events. Rodrigues, Ana Senior IT Asset Supervisor, Cisco Discover ways to current knowledge successfully. Rework your graphs and use your data to steer your viewers.
BeforeAfter Downing, Diedre StoryIQ's Head of Studying Experiences Meet your instructor. Diedre Downing, an excellent educator and knowledge visualization keynote presenter, joins the StoryIQ group with over 15 years of instructing and facilitation experience. Throughout her 14-year stint on the New York Metropolis Division of Schooling, Diedre oversaw the event of digital coaching applications for practically 100,000 educators.
More courses you might like