Cold Email Wizard – Cold Email Mastery 2.0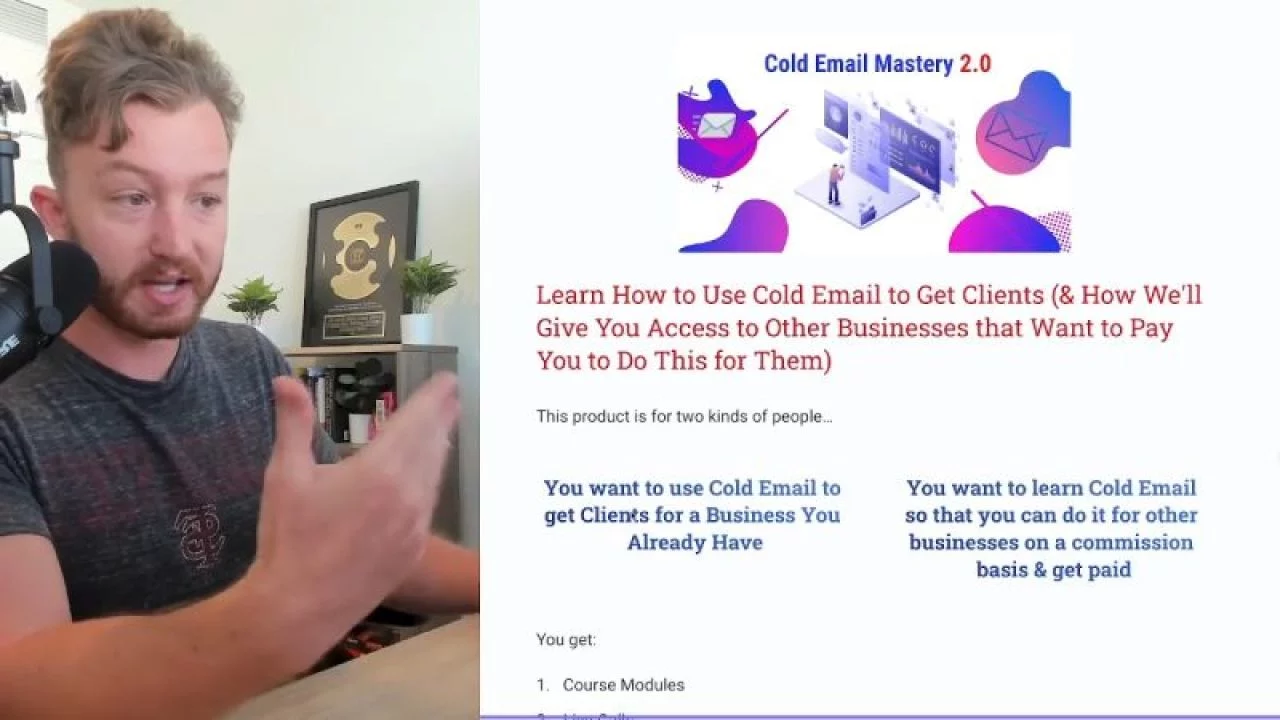 Premium
Learn online (no require download), easy download (Google Drive)

Ensure to get all files in the file list

Get free update course through your email

If you find a website cheaper than us, send it to us and we'll offer a cheaper price.

Last Updated Date: 07-25-2023
Cold Email Wizard – Cold Email Mastery 2.0 (7.8 GB)
Last Updated Date: 07-25-2023
Google Drive Proof
Cold Email Wizard – Cold Email Mastery 2.0
Owner
Last modified
File size
Cold Email Wizard – Cold Email Mastery 2.0
01-Intro
01-Welcome to Cold Email Mastery 2.0.mp4
me
Jul 25, 2023 me
138.1 MB
01-Welcome to Cold Email Mastery 2.0.pdf
me
Jul 25, 2023 me
71.4 KB
01-Welcome to Cold Email Mastery 2.0.png
me
Jul 25, 2023 me
191.8 KB
02-Implementation Pathway.mp4
me
Jul 25, 2023 me
68.1 MB
02-Implementation Pathway.pdf
me
Jul 25, 2023 me
61.3 KB
02-Implementation Pathway.png
me
Jul 25, 2023 me
196 KB
me
Jul 25, 2023 me
129.7 MB
me
Jul 25, 2023 me
82.6 KB
me
Jul 25, 2023 me
230.5 KB
04-Getting Through The Content Fast.mp4
me
Jul 25, 2023 me
34.4 MB
04-Getting Through The Content Fast.pdf
me
Jul 25, 2023 me
59.1 KB
04-Getting Through The Content Fast.png
me
Jul 25, 2023 me
217.6 KB
Cold Email Wizard – Cold Email Mastery 2.0
02-Deliverability
01-Cold Email Setup Guide (Updated for 2023 & Smartlead).docx
me
Jul 25, 2023 me
7.2 KB
01-Set up new domains and email accounts via Google.mp4
me
Jul 25, 2023 me
206.1 MB
01-Set up new domains and email accounts via Google.png
me
Jul 25, 2023 me
262.3 KB
01-Step-by-step new email account setup SOP.docx
me
Jul 25, 2023 me
341 KB
02-Cold Email Setup Guide (Updated for 2023 & Smartlead).docx
me
Jul 25, 2023 me
7.2 KB
02-Connect your new email accounts to Smartlead and start the warm up process.docx
me
Jul 25, 2023 me
345.8 KB
02-Sign up for Smartlead and connect your new emails.mp4
me
Jul 25, 2023 me
136.2 MB
02-Sign up for Smartlead and connect your new emails.png
me
Jul 25, 2023 me
236.8 KB
03-Cold Email Setup Guide (Updated for 2023 & Smartlead).docx
me
Jul 25, 2023 me
7.2 KB
03-Email account warm-up.docx
me
Jul 25, 2023 me
300 KB
03-Start the 14-day warmup process in Smartle.mp4
me
Jul 25, 2023 me
161 MB
03-Start the 14-day warmup process in Smartle.png
me
Jul 25, 2023 me
230.6 KB
Cold Email Wizard – Cold Email Mastery 2.0
03-Targeting
01-Clearly define your ICP.docx
01-Clearly define your Ideal Client Profile.mp4
me
Jul 25, 2023 me
246.3 MB
01-Clearly define your Ideal Client Profile.png
me
Jul 25, 2023 me
267.8 KB
01-Cold Email Setup Guide (Updated for 2023 & Smartlead).docx
me
Jul 25, 2023 me
7.2 KB
02-Building Your Leads List with ListKit.io.mp4
me
Jul 25, 2023 me
291.8 MB
02-Building Your Leads List with ListKit.io.png
me
Jul 25, 2023 me
253.8 KB
02-Cold Email Setup Guide (Updated for 2023 & Smartlead).docx
me
Jul 25, 2023 me
7.2 KB
03-Building Your Leads List with Apollo.io.mp4
me
Jul 25, 2023 me
407.5 MB
03-Building Your Leads List with Apollo.io.png
me
Jul 25, 2023 me
322 KB
03-Building Your Leads List with Apollo.io.rtf
me
Jul 25, 2023 me
43.8 KB
03-Cold Email Setup Guide (Updated for 2023 & Smartlead).docx
me
Jul 25, 2023 me
7.2 KB
04-Building your leads list using LinkedIn Sales Nav.mp4
me
Jul 25, 2023 me
381.7 MB
04-Building your leads list using LinkedIn Sales Nav.png
me
Jul 25, 2023 me
339.3 KB
04-Cold Email Setup Guide (Updated for 2023 & Smartlead).docx
me
Jul 25, 2023 me
7.2 KB
05-Cold Email Setup Guide (Updated for 2023 & Smartlead).docx
me
Jul 25, 2023 me
7.2 KB
05-Verifying your leads list using MillionVerifier.mp4
me
Jul 25, 2023 me
102.5 MB
05-Verifying your leads list using MillionVerifier.png
me
Jul 25, 2023 me
347.5 KB
06-Cold Email Setup Guide (Updated for 2023 & Smartlead).docx
me
Jul 25, 2023 me
7.2 KB
06-Formatting your leads list for Smartlead.mp4
me
Jul 25, 2023 me
198.2 MB
06-Formatting your leads list for Smartlead.png
me
Jul 25, 2023 me
360.2 KB
06-[Template] CES Leads List (make a copy).xlsx
me
Jul 25, 2023 me
84.2 KB
Cold Email Wizard – Cold Email Mastery 2.0
04-Messaging
Owner
Last modified
File size
01-Intro to Writing Cold Emails.mp4
me
Jul 25, 2023 me
65.9 MB
02-Writing Cold Email Subject Lines.mp4
me
Jul 25, 2023 me
36.4 MB
03-Writing Cold Email Openers.mp4
04-Cold Email Body Part 1.mp4
me
Jul 25, 2023 me
58.5 MB
05-Cold Email Body Part 2.mp4
me
Jul 25, 2023 me
15.9 MB
06-Writing Call-To-Actions (CTAs).mp4
me
Jul 25, 2023 me
42.3 MB
07-Advanced Personalization Strategies.mp4
me
Jul 25, 2023 me
109.2 MB
08-The 2 Golden Rules of Cold Email.mp4
me
Jul 25, 2023 me
12.3 MB
09-Adding Case Studies to Your Emails.mp4
me
Jul 25, 2023 me
72.9 MB
10-Writing Follow-Ups.mp4
me
Jul 25, 2023 me
84.1 MB
11-Writing Cold Email Angles From Scratch.mp4
me
Jul 25, 2023 me
113.4 MB
12-Writing A Cold Email Sequence From Scratch.mp4
me
Jul 25, 2023 me
530.9 MB
Cold Email Wizard – Cold Email Mastery 2.0
04-Messaging
Resources
01-Intro to Writing Cold Emails.png
me
Jul 25, 2023 me
204.7 KB
02-Cold Email Subject Lines.docx
me
Jul 25, 2023 me
6.7 KB
02-Writing Cold Email Subject Lines.png
me
Jul 25, 2023 me
193.2 KB
03-Writing A Cold Email Opener.docx
me
Jul 25, 2023 me
6.9 KB
03-Writing Cold Email Openers.png
me
Jul 25, 2023 me
206.6 KB
04-Cold Email Body Part 1.png
me
Jul 25, 2023 me
211.2 KB
04-Writing A Cold Email Opener.docx
me
Jul 25, 2023 me
6.9 KB
05-Cold Email Body Part 2.png
me
Jul 25, 2023 me
219.4 KB
05-Writing A Cold Email Opener.docx
me
Jul 25, 2023 me
6.9 KB
06-Writing Call-To-Actions (CTAs).docx
me
Jul 25, 2023 me
6.8 KB
06-Writing Call-To-Actions (CTAs).png
me
Jul 25, 2023 me
202.3 KB
07-Advanced Personalization Strategies.png
me
Jul 25, 2023 me
234 KB
07-Cold Email Personalization Strategy.docx
me
Jul 25, 2023 me
7.6 KB
08-2 1 Cold Email Rule & The 50 Word Rule.docx
me
Jul 25, 2023 me
6.6 KB
08-The 2 Golden Rules of Cold Email.png
me
Jul 25, 2023 me
194.1 KB
09-Adding Case Studies.docx
09-Adding Case Studies to Your Emails.png
me
Jul 25, 2023 me
212.5 KB
10-Writing Follow-Ups.docx
me
Jul 25, 2023 me
7.4 KB
10-Writing Follow-Ups.png
me
Jul 25, 2023 me
252.1 KB
11-Writing An Angle From Scratch.docx
me
Jul 25, 2023 me
7.2 KB
11-Writing Cold Email Angles From Scratch.png
me
Jul 25, 2023 me
225.1 KB
12-Writing A Cold Email Sequence From Scratch.png
me
Jul 25, 2023 me
416.3 KB
Cold Email Wizard – Cold Email Mastery 2.0
05-Sending Software
01-Cold Email Setup Guide (Updated for 2023 & Smartlead).docx
me
Jul 25, 2023 me
7.2 KB
01-Launching your 1st campaign in Smartlead.mp4
me
Jul 25, 2023 me
270.5 MB
01-Launching your 1st campaign in Smartlead.png
me
Jul 25, 2023 me
204.2 KB
02-Managing your campaigns in Smartlead.mp4
me
Jul 25, 2023 me
80.3 MB
02-Managing your campaigns in Smartlead.png
me
Jul 25, 2023 me
200.6 KB
03-Setting up automations in Smartlead.mp4
me
Jul 25, 2023 me
103.8 MB
03-Setting up automations in Smartlead.png
me
Jul 25, 2023 me
233.6 KB
Cold Email Wizard – Cold Email Mastery 2.0
06-Inbox Management
Owner
Last modified
File size
01-Inbox Management 101.mp4
me
Jul 25, 2023 me
78.4 MB
02-The Art of Following Up.mp4
me
Jul 25, 2023 me
201.2 MB
03-Automated Follow-Ups in Smartlead.mp4
me
Jul 25, 2023 me
74.2 MB
04-Handling replies in the Smartlead Master Inbox.mp4
me
Jul 25, 2023 me
162.8 MB
06-Live Inbox Management Example #1.mp4
me
Jul 25, 2023 me
55.3 MB
07-Live Inbox Management Example #2.mp4
me
Jul 25, 2023 me
56.4 MB
08-Live Inbox Management Example #3.mp4
me
Jul 25, 2023 me
78.6 MB
09-Live Inbox Management Example #4.mp4
me
Jul 25, 2023 me
42.3 MB
10-Live Inbox Management Example #5.mp4
me
Jul 25, 2023 me
24.7 MB
11-Live Inbox Management Example #6.mp4
me
Jul 25, 2023 me
21.3 MB
12-Live Inbox Management Example #7.mp4
me
Jul 25, 2023 me
28.5 MB
13-Live Inbox Management Example #8.mp4
me
Jul 25, 2023 me
52.9 MB
14-Live Inbox Management Example #9.mp4
me
Jul 25, 2023 me
57.5 MB
15-Live Inbox Management Example #10.mp4
me
Jul 25, 2023 me
40.8 MB
Cold Email Wizard – Cold Email Mastery 2.0
06-Inbox Management
Resources
01-Inbox Management 101.docx
me
Jul 25, 2023 me
6.9 KB
01-Inbox Management 101.png
me
Jul 25, 2023 me
230.1 KB
02-The Art of Following Up.png
me
Jul 25, 2023 me
286.1 KB
02-The Art of Following Up.txt
03-Automated Follow-Ups in Smartlead.png
me
Jul 25, 2023 me
166.3 KB
04-Handling replies in the Smartlead Master Inbox.png
me
Jul 25, 2023 me
300.2 KB
me
Jul 25, 2023 me
7.3 KB
me
Jul 25, 2023 me
273.1 KB
me
Jul 25, 2023 me
1.4 GB
06-Inbox Management #1 PDF.pdf
me
Jul 25, 2023 me
830.8 KB
06-Live Inbox Management Example #1.png
me
Jul 25, 2023 me
210.3 KB
07-Inbox Management Example #2 PDF.pdf
me
Jul 25, 2023 me
296.6 KB
07-Live Inbox Management Example #2.png
me
Jul 25, 2023 me
229 KB
08-Inbox Management Example #3 PDF.pdf
me
Jul 25, 2023 me
295.5 KB
08-Live Inbox Management Example #3.png
me
Jul 25, 2023 me
241.6 KB
09-Live Inbox Management Example #4.png
me
Jul 25, 2023 me
214.1 KB
10-Live Inbox Management Example #5.png
me
Jul 25, 2023 me
237.5 KB
11-Live Inbox Management Example #6.png
me
Jul 25, 2023 me
222.8 KB
12-Live Inbox Management Example #7.png
me
Jul 25, 2023 me
218.7 KB
13-Live Inbox Management Example #8.png
me
Jul 25, 2023 me
208.9 KB
14-Live Inbox Management Example #9.png
me
Jul 25, 2023 me
212 KB
15-Live Inbox Management Example #10.png
me
Jul 25, 2023 me
213 KB
Cold Email Wizard – Cold Email Mastery 2.0
07-Campaign Review
01-How to measure cold email success.mp4
me
Jul 25, 2023 me
54.2 MB
01-How to measure cold email success.png
me
Jul 25, 2023 me
216.1 KB
01-The Cold Email Sales Funnel.docx
02-How to Do A Campaign Audit.mp4
me
Jul 25, 2023 me
101.9 MB
02-How to Do A Campaign Audit.png
me
Jul 25, 2023 me
372.9 KB
03-Campaign reporting in Smartlead.mp4
me
Jul 25, 2023 me
52.3 MB
03-Campaign reporting in Smartlead.png
me
Jul 25, 2023 me
160.8 KB
04-How to Audit Campaigns in Smartlead.mp4
me
Jul 25, 2023 me
101.5 MB
04-How to Audit Campaigns in Smartlead.png
me
Jul 25, 2023 me
374.4 KB
05-No Results, Here-s How to Pivot Your Strategy.mp4
me
Jul 25, 2023 me
148.1 MB
05-No Results Here's How to Pivot Your Strategy.png
me
Jul 25, 2023 me
389.7 KB
Cold Email Wizard – Cold Email Mastery 2.0
08-Live Call Recordings
me
Jul 25, 2023 me
650.1 MB
me
Jul 25, 2023 me
208.4 MB
Cold Email Wizard – Cold Email Mastery 2.0 Download This step-by-step deliverability walkthrough will present you learn how to hit the inbox each time, and by no means ever land in spam or the promotions tab. Following these directions precisely means an instantaneous 100-200% carry in marketing campaign efficiency.
We'll present you the way we construct lead lists, automate the method, clear emails, and even how we clear unverifiable emails that no person else out there has entry to, so to message individuals who aren't getting emailed by different folks.
We've helped over 400 excessive ticket shoppers throughout 50 totally different industries promoting over 100 totally different provides. Every market has it's personal stage of sophistication – and took us months to crack for every shopper. You'll be capable of skip that course of, and be taught what scripts & methods work for every market instantly.
We'll divulge to you our sequence setup, automations, triggers, observe ups, subsequences, and full tech setup that's personally booked us over 5,000 gross sales calls & 400 excessive ticket shoppers
Cold electronic mail isn't as straightforward as "ship this script, get calls booked." You must know what to reply to your leads! We'll present you reside inbox administration & precisely what to say to each single response to maximise what number of calls you e-book, examined throughout 5,000 gross sales calls booked for our personal shoppers.
We run a recruiting arm of our enterprise the place we place fee primarily based chilly emailers inside different folks's companies. These fee primarily based chilly emailers can get $400-$700 per shut that every shopper makes, WITHOUT you paying for any tech or knowledge. The shopper pays all of it.
More courses you might like