Ben Heath – Facebook Ads Insiders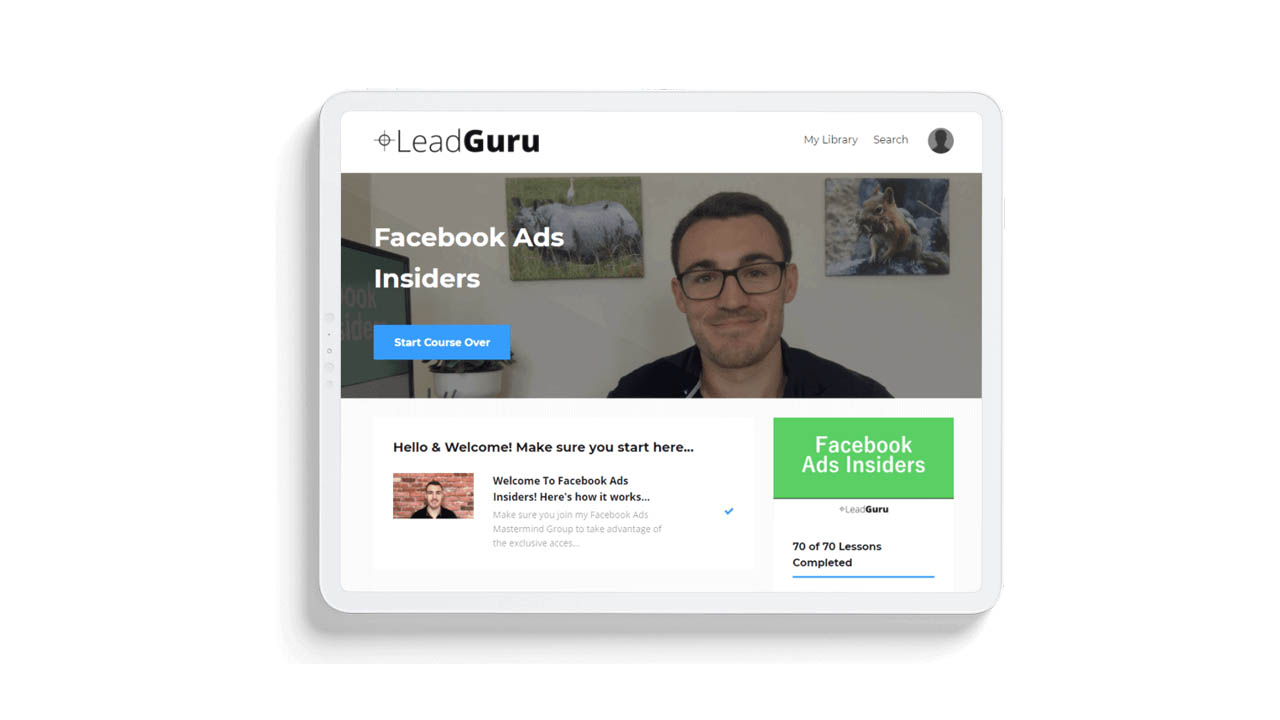 Premium
Learn online (no require download), easy download (Google Drive)

Ensure to get all files in the file list

Get free update course through your email

If you find a website cheaper than us, send it to us and we'll offer a cheaper price.

Last Updated Date: 05-27-2022
Ben Heath – Facebook Ads Insiders (5.7 GB)
Last Updated Date: 05-27-2022
Google Drive Proof
Ben Heath – Facebook Ads Insiders
Owner
Last modified
File size
01-Module 1 - Preparing For Success
02-Module 2 - Facebook Advertising Strategy
03-Module 3 - Facebook Ad Campaigns
04-Module 4 - Ad Set Targeting
01-Welcome To Facebook Ads Insiders! Here's how it works.mp4
me
May 27, 2022 me
259.7 MB
Ben Heath – Facebook Ads Insiders
01-Module 1 - Preparing For Success
01-Lesson 1 - Welcome To Module 1.mp4
me
May 27, 2022 me
7.8 MB
02- Lesson 2 - What We're Going To Cover.mp4
me
May 27, 2022 me
49.9 MB
03- Lesson 3 - Facebook Ad Policies .mp4
me
May 27, 2022 me
262.4 MB
04-Lesson 4 - Create Your Business Manager Account .mp4
me
May 27, 2022 me
100.5 MB
04-Lesson 4 - Create Your Business Manager Account.pdf
05- Lesson 5 - Set Up Your Facebook Pixel .mp4
me
May 27, 2022 me
187.9 MB
05- Lesson 5 - Set Up Your Facebook Pixel.pdf
me
May 27, 2022 me
56.5 KB
06-Lesson 6 - Prime Your Facebook Page .mp4
me
May 27, 2022 me
316.2 MB
Ben Heath – Facebook Ads Insiders
02-Module 2 - Facebook Advertising Strategy
01-Lesson 1 - Welcome To Module 2.mp4
me
May 27, 2022 me
52.9 MB
02-Lesson 2 - Direct To Offer Strategy .mp4
me
May 27, 2022 me
169.1 MB
03-Lesson 3 - Lead Magnet & Webinar Strategy .mp4
me
May 27, 2022 me
133.5 MB
03-Lesson 3 - Lead Magnet & Webinar Strategy.pdf
04- Lesson 4 - Omnipresence Content Strategy .mp4
me
May 27, 2022 me
125.3 MB
05-Lesson 5 - Long Term vs Short Term.mp4
me
May 27, 2022 me
98.2 MB
06-Lesson 6 - Competitor Analysis .mp4
me
May 27, 2022 me
126.1 MB
06-Lesson 6 - Competitor Analysis.pdf
me
May 27, 2022 me
60.7 KB
Ben Heath – Facebook Ads Insiders
03-Module 3 - Facebook Ad Campaigns
01-Lesson 1 - Welcome To Module 3 .mp4
02-Lesson 2 - Campaign Objectives .mp4
me
May 27, 2022 me
127.3 MB
03- Lesson 2.5 - ODAX .mp4
me
May 27, 2022 me
55.3 MB
04-Lesson 3 - Buying Types .mp4
me
May 27, 2022 me
42.7 MB
05- Lesson 4 - Campaign Budget Optimisation .mp4
me
May 27, 2022 me
46.1 MB
06- Lesson 5 - Special Ad Categories .mp4
me
May 27, 2022 me
21.9 MB
07-Lesson 6 - Campaign Bid Strategy.mp4
me
May 27, 2022 me
44.4 MB
08-HOW TO SET A FACEBOOK ADS SCHEDULE WITH RULES.mp4
me
May 27, 2022 me
181.3 MB
08-Lesson 7 - Starting Budget & Options .mp4
me
May 27, 2022 me
66.9 MB
Ben Heath – Facebook Ads Insiders
04-Module 4 - Ad Set Targeting
01-Lesson 1 - Welcome To Module 4 .mp4
me
May 27, 2022 me
30.7 MB
02-Lesson 2 - Location & Demographic Targeting .mp4
me
May 27, 2022 me
163.9 MB
03-Lesson 3 - Cold Audience Targeting Options.mp4
me
May 27, 2022 me
102.5 MB
04-Lesson 4 - Audience Size & Selection .mp4
me
May 27, 2022 me
133 MB
05- Lesson 5 - Facebook Custom Audiences .mp4
me
May 27, 2022 me
361.2 MB
06-Lesson 6 - Facebook Lookalike Audiences .mp4
me
May 27, 2022 me
275.7 MB
07-Lesson 7 - Audience Exclusions .mp4
me
May 27, 2022 me
150.9 MB
08-Lesson 8 - Local Business Targeting .mp4
me
May 27, 2022 me
225.4 MB
Ben Heath – Facebook Ads Insiders
05-iOS 14
01-Lesson 1 - Introduction To iOS 14 Changes .mp4
me
May 27, 2022 me
78.4 MB
02-Lesson 2 - iOS 14 Changes & Impact.mp4
me
May 27, 2022 me
513.4 MB
03- Lesson 3 - Verify Your Domain .mp4
me
May 27, 2022 me
200.7 MB
03- Lesson 3 - Verify Your Domain.pdf
me
May 27, 2022 me
57.4 KB
04-Lesson 4 - Configure Your Web Events.mp4
me
May 27, 2022 me
195.3 MB
Ben Heath – Facebook Ads Insiders
06-Advanced Strategies 1
01-Lesson 1 - Introduction to the Advanced Strategies Modules .mp4
me
May 27, 2022 me
170.6 MB
02-Lesson 2 - The Instagram Profile Method.mp4
me
May 27, 2022 me
198.4 MB
03- Lesson 3 - Set Up Your Instagram Profile .mp4
me
May 27, 2022 me
221.9 MB
04- Lesson 4 - Create Your Instagram Profile Method Campaign .mp4
me
May 27, 2022 me
290.5 MB
05-Lesson 5 - Testing the Instagram Profile Method .mp4
What's Included
Here is a really complete record of what you will get entry to:
MODULE 1
Getting ready For Success
Worth: $497
To kick issues off, we set actually strong foundations. I present you tips on how to set every thing up for achievement, together with Enterprise Supervisor accounts, Facebook Pixel, Facebook Ads Polices, and so forth. I additionally present you tips on how to prime your Facebook Web page and be sure to look credible and dependable to your prospects on Facebook.
MODULE 2
Facebook Ads Technique
Worth: $697
Utilizing the proper Facebook Ads Technique is essential. On this module I element numerous new and progressive methods that persistently ship nice outcomes for us and our purchasers. I present you precisely how they work and which technique is greatest suited to your enterprise and the business you use in.
MODULE 3
Facebook Advert Campaigns
Worth: $497
Facebook Advert campaigns are break up into 3 components. On this module I cowl the highest degree (the marketing campaign degree) intimately. Exhibiting you the way to decide on the perfect Marketing campaign Goals, reap the benefits of Marketing campaign Funds Optimization, use the proper Shopping for Sort in your campaigns and extra.
MODULE 4
Advert Set Focusing on
Worth: $997
Particularly concentrating on your ideally suited prospects is likely one of the issues that makes Facebook promoting among the finest advertising and marketing platforms ever created. I cowl all of it right here, together with tips on how to discover successful concentrating on choices, creating killer Customized Audiences, Lookalike Audiences, and a complete lot extra.
MODULE 5
Advert Set Supply
Worth: $497
Most Facebook advertisers assume the advert set is all about concentrating on. However supply might be simply as essential. On this module I present you tips on how to get probably the most out of Facebook's many supply choices, together with deciding on the proper Placement choices, Conversion Home windows, Optimization For Advert Supply and extra.
MODULE 6
Facebook Ads
Worth: $997
Module 6 covers the all essential Facebook advert. I present you tips on how to create high-converting adverts in numerous completely different codecs (together with video). And I am going by means of every a part of a Facebook advert in order that you understand precisely what to make use of for headlines, inventive, copy, and so forth.
MODULE 7
Gross sales Funnels & Retargeting
Worth: $697
On this module we put all of it collectively. We mix the perfect marketing campaign settings with laser-focused concentrating on, ideally suited supply choices and high-converting advert inventive. I additionally present you tips on how to tailor your gross sales funnel in your business and particular enterprise mannequin. This one's quite a lot of enjoyable!
MODULE 8
Evaluation, Optimization & Scaling
Worth: $697
As a Facebook Ads company, we spend extra time analyzing, optimizing and scaling campaigns than we do creating them. Enhancing campaigns primarily based on the info, can triple (or extra) their effectiveness. It's key to producing excellent outcomes and I present you our precise course of on this module.
BONUS
iOS 14
Worth: $997
iOS 14 has had a big effect on Facebook promoting. On this bonus module I present you precisely what it's essential to do, to verify your Facebook advert campaigns produce the absolute best outcomes publish iOS 14. I'll even be including content material to this module ceaselessly because the Facebook adverts modifications are carried out, so that you'll at all times be updated.
More courses you might like